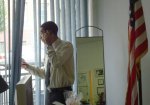 Councilwoman Diana Reyna's Chief of Staff, Antonio Reynoso, who had long been rumored to have interest in her seat in 2013, is now talking openly about it.
"Born and raised in this district, I really feel that I've got a pulse on the community. I've been here, and I've lived it, and I know the issues that affect this community," Mr. Reynoso said in a recent interview with Roberto Perez. "As a leader and a representative, I'll be sure to represent the interests of my community, and this community in the 34th District."
"I also have experience working in the City Council and working alongside a Council Member that has done great things for this community. I think those two things paired together make me a strong candidate and the best candidate in the 34th District."
Currently, only one other candidate appears to be actively considering the race: Jason Adolfo Otaño, an attorney and aide to Borough President Marty Markowitz. Additionally indicating his interest, Mr. Otaño has registered a campaign committee for the seat too.
In 2009, Ms. Reyna faced a high-profile challenge from a candidate backed by Assemblyman Vito Lopez, the chairman of the Democratic Party of Kings County. It would seem quite plausible he'd still be seeking his own candidate for the race in 2013.
Ms. Reyna, who's term-limited out in 2013, represents a district stretching from northern Brooklyn up into Queens.
Watch Mr. Reynoso's interview below: