Keen-eyed, New England-based Saturday Night Live viewers last weekend may have noted that the frumpy character Bobby Moynihan played in a Super Bowl-themed sketch, Janet Peckinpaugh, shared a distinctive name with the former anchor of NBC's Connecticut affiliate.
"Janet Peckinpaugh" is a lady of a certain age who idolizes Tom Brady, offering the quarterback a chance to "throw one in me." Janet Peckinpaugh, in real life, was a local CBS anchor in Connecticut who filed an age- and sex-discrimination lawsuit against her CBS affiliate. She also alleged sexual harassment by her male co-anchor. She landed at NBC, where she remained until she retired from the news business. She ran, unsuccessfully, for Congress as a Republican in 2010.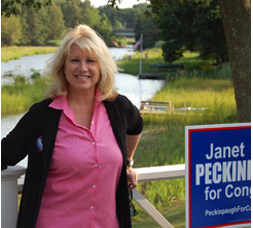 "I didn't see the skit live," Ms. Peckinpaugh told The Observer. "I saw a bunch of activity on my Facebook page, so I went to the web page.
"I stopped watching SNL ten years ago when it stopped being funny," she added. "It was such a funny coincidence that they used my name–if it was meant to be me, they could have gotten their facts right! I'm 60–the woman in the piece is 46. I'm blonde. I wear contact lenses." She did not address whether, like "Janet," she has two elbows in one arm and only one in the other arm.
Was there any bad blood with NBC? Ms. Peckinpaugh said she had "called a couple of friends of mine and said, Do we know anybody?" at Saturday Night Live. "NBC is a very small company. The station here in Hartford was owned by the network. It's a very small industry, and I was one of the first women on the air. It's such a fun name! It's hard not to know my name. I watched it and laughed."
Representatives from Saturday Night Live did not respond to requests for comment.
UPDATE: It has come to our attention that actor Bobby Moynihan attended the University of Connecticut. The plot thickens!