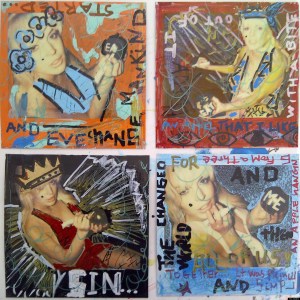 In Los Angeles, there's a party every night of the week, but in the week leading up to Oscars, there are quite a few more. As the countdown to the golden boy begins, men with last names like Weinstein and Kavanaugh fête their contenders at private venues like Chateau Marmont and Soho House. Now that it's too late to garner any more votes from Academy members, it's time to celebrate achievement. The same goes for the city's art world.
Years ago, actor Jim Backus said of fellow thespian Cesar Romero, "He would attend the opening of envelope." This week would've been Romero's dream come true, filled as it is with a perfect amalgamation of art and celebrity. But is it more about the art, with a dash of celebrity, or the other way around?
The latter was certainly the case on Wednesday evening, at the opening for—or rather, the 'celebration' of—artist Domingo Zapata at Mr. C in Beverly Hills. Los Angeles frequently gets a bad rap as just a place to be seen—and unfortunately that was true enough here.
"The hotter the girls, the more faux celebrities, the worse the art," mused art consultant Stefan Simchowitz. Amid a sea of posers, Stephen Dorff, and Mr. Zapata's latest art sale muse, Lindsay Lohan (the artist sold a work for $100,000 last week with the troubled actress emblazoned on it) mingled. The artist's work was tacked up on the walls surrounding the pool. Mr. Zapata, perhaps still riding high from his six-figure sale, made a grand entrance, descending down into the crowd in a glass elevator to the theme from Rocky. Comments overheard ranged from "Amazing, but I don't really know art—but I recognize the Mona Lisa!" to people comparing the work to that iconic image of four dogs playing poker. Truth be told, Mr. Zapata is dangerously close to becoming the next Mr. Brainwash—and in this crowd—depending on whom you spoke with—that could be considered a good thing.
Fortunately there was a saving grace to the evening: Richard Young's homage to Elizabeth Taylor at Stephen Webster's jewelry store on Rodeo Drive. While the celeb wattage was nil, Mr. Young's photographic essay of the late Ms. Taylor in the 1970's and '80s reminds us that Dame Elizabeth was not just a superstar, she was a beauty—especially from within.
Attendees: Mr. Zapata: Tara Reid, Mischa Barton, Lady Victoria Hervey, Henrik Fisker (the creator of the Aston Martin DB9 and BMW Z8), Jason Segel.
Celebrity Quotient: Low
Collector Quotient: Zero.