Dominican Ambassador Roberto Saladin has thrown his support behind the push to create a new predominantly Latino Congressional district in Northern Manhattan and the Bronx.  Mr. Saladin sent a letter to Governor Andrew Cuomo last Tuesday describing the creation of the district as a "question of utmost importance" for the Dominican Diaspora that would "open the opportunity to elect a Congressman of Dominican origin to the U.S. Congress in Washington D.C."
In addition to his letter to Governor Cuomo, Mr. Saladin, who is the Dominican Republic's Ambassador and Permanent Representative to the Organization of American States, held meetings with the governor, State Senate Majority Leader Dean Skelos and Assembly Speaker Sheldon Silver where he expressed his support for the district during a visit to Albany earlier this month where he attended a ceremony where the State Senate proclaimed February Dominican Heritage Month in New York.
The resolution proclaiming Dominican Heritage Month was proposed by State Senator Adriano Espaillat, who accompanied Mr. Saladin during his meeting with Governor Cuomo. Mr. Espaillat is considering running for the seat in the predominantly Latino district if it is created. If elected, he would be the first Dominican member of the House of Representatives.
Along with the questions surrounding Congressman Charlie Rangel's district in Harlem, the issue of the Latino district is one of the reasons proposals for Congressional lines have yet to be released as part of the redistricting process that occurs in New York each decade. On Sunday, elected officials from Northern Manhattan including Mr. Espaillat, Assemblyman Guillermo Linares, Councilman Robert Jackson and Councilman Ydanis Rodriguez held a march from Inwood to the Bronx calling for the creation of the Latino district.
Read Ambassador Saladin's full letter to Governor Cuomo below.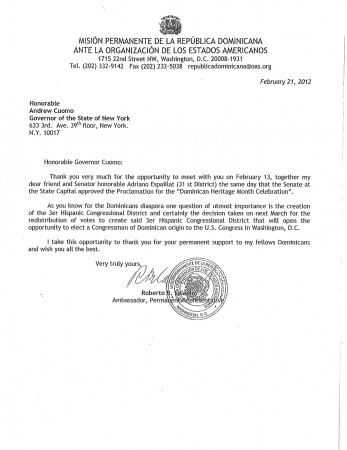 Update (3/1/12 6:55 pm): The original version referred to Mr. Saladin as the Dominican Ambassador to the United States, a position he held from 2009 until 2011. This story was updated with his current title, Ambassador and Permanent Representative to the Organization of American States. Anibal de Castro, the current Ambassador to the United States, issued a statement of his own March 1 disavowing Mr. Saladin's letter.