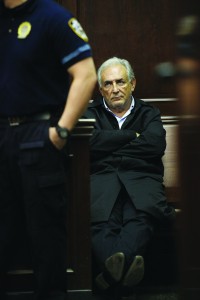 For now, former IMF chief Dominique Strauss-Kahn is allowed to walk the streets of Paris a free man. This comes after two days of public questioning by French officials over his role in using embezzled funds to throw wild orgies with prostitutes.

As we reported earlier, the questioning did not involve whether or not Mr. Strauss-Kahn had sex with women other than his wife (which he readily admits to), but whether or not these women were paid for their services. In France, sex with prostitutes is legal, but "pimping" is not, nor is "paying for prostitutes with funds from the French government."
Though after the several charges of rape for which he narrowly avoided conviction, you'd think that sordid world of pimping and prostitution would be small fish for Mr. Strauss-Kahn's lawyers. C'est la vie!