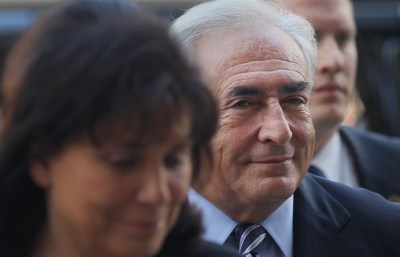 Dominique Strauss-Kahn is officially in hot water again, as French officials arrested the former International Monetary Fund chief yesterday over suspicions that he used embezzled funds to pay for his wild swinger orgies.
While Mr. Strauss-Kahn was released from suspicions of rape charges after it was found that  the maid he allegedly molested had issues with her credibility (and the journalist he raped ran out her statutes of limitations), he could go down Al Capone-style. It wasn't that he participated in partner-swapping sex parties, you see, it was that some of these naked women might have been paid for the pleasure of the 62-year-old's company. Orgies? Well he's just being French! But prostitution? Merde!
Meanwhile, Mr. Strauss-Kahn's lawyer had an interesting take on the issue.
"He could easily not have known (that the women were being paid)," said lawyer Henri Leclerc in a statement made in December. "Because as you can imagine, at these kinds of parties you're not always dressed."
Huh?
"I defy you to tell the difference between a nude prostitute and a nude classy woman," he clarified.
Oh, well he has a point there. Stripped down out of their mandatory t-shirt reading "Prostituée," its impossible to tell a normal stranger willing to have sex with you from a paid lady of the night.