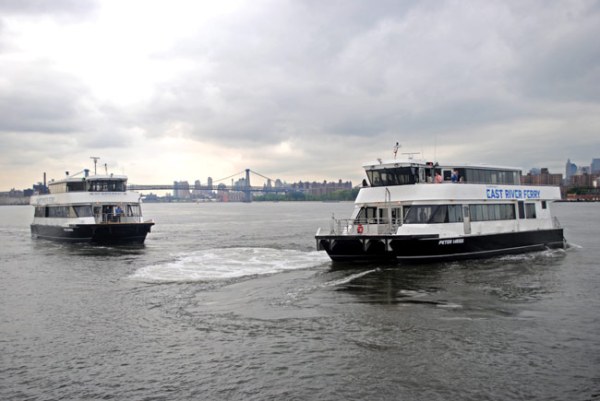 Much as The Observer enjoyed our trip on the East River Ferry in the fall, what with the views and croissants on board, it was still an anachronistic way to get to work, one that took twice as long as the typical subway commute (it did not help that we had to bike to the ferry, then walk to the subway to get to the office on the West Side). Still, as an alternative, it is nice.
Fewer New Yorkers seem to agree: Ferry ridership has fallen by 50 percent over the past few months, according to The Journal.
This is a surprise for a number of reasons. A fall in ridership was expected, though perhaps not so precipitously given the ferry's unexpected popularity earlier this year. East River ferries have come before, an effort the Bloomberg administration is desperate to have take as it will continue to spur development on the Brooklyn and Queens coasts. There is already hopes by community groups to include stops further up Manhattan.
And there is the fact that the mild winter should mean steadier ridership. How bad might things have been if it had been a frigid new year?
Even in grayer, chillier weather, organizers say, a core group of commuters have flocked to the ferry boats, embracing the higher ticket price in exchange for a commute into Manhattan or downtown Brooklyn that is competitive on aesthetic terms—and even on timeliness–with the subway or the bus.

Ridership is "dramatically higher than anticipated," said Steven Levin, a member of the City Council who represents Williamsburg and Greenpoint. Mr. Levin was unconcerned by the seasonal dip in ridership, which he said had been anticipated.

"There were a lot of folks using it in the summer for pleasure, for leisure," Mr. Levin said. "Tourists were using it, and naturally that's going to dip in winter months."
Maybe they need to add heated stations? They can even serve croissants.