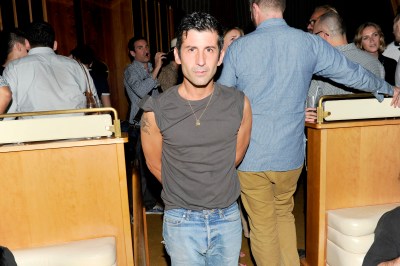 The huddled masses on the corner of Mulberry and Mosco had waited for a long time. They had waited through 700 days of planning, they had waited outside several hours on this first night, and then they had waited to get the nod from a doorman. They had waited for the opening of Le Baron, the Chinatown outpost of Andre Saraiva's famous Paris club.
"Stand in a straight line!" a bouncer yelled.
Police cars were circling the block and a few officers took their positions at checkpoints down the street. We were standing outside the club's entrance late last Friday, where a line had formed behind us longer than we could see.
"When are they going to kick out this guy?" a friend whispered.
He was pointing at a man in a bunny rabbit costume and head.
"That guy," said another, "he's the guy who lets you in. Or, in reality, doesn't let you in."
Then two men from across the street came up toward the front.
"Hey, fuck you, get to the back!" someone yelled at them.
"Don't you fucking cut!" said another.
"No, but really," the man said, brandishing a set of keys. "I live here."
He walked up to the door to his apartment building, which would never have a quiet night again.
"This is my home," he said.
Then, a few minutes later, we were let into Le Baron.
There is a jet set that drifts on the art-party trade winds—a crew that moves down that silk road from Basel to Paris to Cannes to Nolita—and at its center is Andre Saraiva. At first glance he seems more of a mascot than a macher. He's small and uppity, with slicked-back greaser hair, impeccable jeans and a leather jacket in all seasons.
He seems to genuinely like everyone who makes it into his clubs. ("Oh! Lover! I love you! So wonderful to see you!") How can anyone be so Gallic, so chic, but also so happy all the time? He's like an orphan kid scooped from the set of from Les Quatre Cents Coups and then given enough money and pretty girls to be giddy forever.
Unrelenting charm and the ability to throw a good party hide the fact that, when it comes to the worldwide diaspora of the fashionable, Mr. Saraiva is pulling many of the strings. The sun never sets on his Le Baron empire—he's planted his flag in Paris, London, Tokyo and New York, with pop-ups in Moscow and Miami. He's been a fixture in this tiny but powerful world for decades, ever since his "Mr. A" stamp began appearing all over Paris.
Graffiti art became gallery art, and Mr. Saraiva went along with it. He can't seem to ever miss a Fashion Week, too. He's designed eyewear and clothing for Louis Vuitton and Saint James. Not to mention the short films with former Kids pinup Leo Fitzpatrick, and his role as creative director of L'Officiel Hommes. (He put himself on the cover of the first issue.)
As a proprietor, he accepts paintings for bar tabs—très Gertrude Stein!—hires abstract artists for bouncers and describes his ideal clientele as "poets." Le Baron Paris was such a hit that pushy Americans began clamoring for an edition of their own. In February 2010, it was announced that Mr. Saraiva would be bringing his globetrotting party to New York City.
"Oh, it will open very soon!" Mr. Saraiva told The Observer in February 2011, at the after party for Charlotte Ronson's new fashion line.
"I don't know when Le Baron will open!" Mr. Saraiva told The Observer in June 2011, at the after party for his film The Shoe. "Maybe it will never open!"
"It's going well, it will be open in the next month!" Mr. Saraiva told The Observer in July 2011, at the after-party for Le Bain's Bastille Day celebration.
At long last, it has.