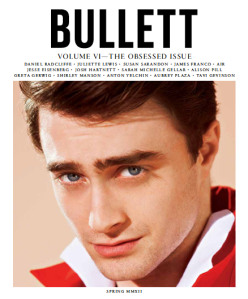 In the next issue of Bullett, Harry Potter star Daniel Radcliffe opens up about performing nude in Equus ("some nights there would be some beautiful girl in the front row and I'd be like, Oh fuck, in two hours you're going to have seen everything") and whether he wants kids (yes!). In a portion cut from the article, Mr. Radcliffe describes his regrets over his small stature:
"If I didn't have this build, and if just I'd been a bit taller, I would have played sports. I could have been a boxer at this height, but it's too late now. If somebody had put me in a gym when I was 9 years old, I think I would have loved it. I definitely want my kids to do something like that."
Surely, given that his petiteness landed him a multi-multi-million-dollar role at age 12, he can't regret it too deeply.