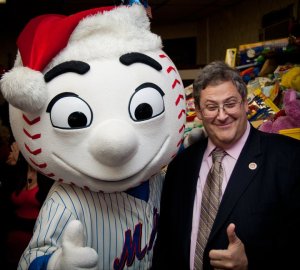 Councilman and State Senate hopeful Lew Fidler was a key player in the early days of fantasy baseball, but he's not happy with the state of his real-life favorite team–The Mets. In the wee hours of this morning, Mr. Fidler posted a note on Facebook lamenting the condition of the Mets heading into the upcoming baseball season.
"The team is going to be DISMAL this year. I lived through and grew up with the miserable yet lovable Mets of the 60's and have never been so sure of a last place finish in my life," Mr. Fidler wrote.
The Mets are currently plagued with financial woes, in part because the Wilpon family, which owns the team is being sued over profits they made with convicted financial fraudster Bernie Madoff. In his note, Mr. Fidler wrote his "heart bleeds" for some of the Mets players and suggested the Wilpons should consider relinquishing control of the team.
"I know it's not politically correct to discuss baseball before the end of the Super Bowl—heck, when have I ever been PC—but maybe its time for the Wilpon's to step aside," Mr. Fidler wrote. "My heart bleeds for guys like David Wright and Ike Davis. This team looks like it is TRYING to finish last. Pitiful."
Mr. Fidler's lament drew a response from his fellow Council member, Jimmy Oddo, who said the sad state of the Mets turned him into a Kansas City Royals fan.
"Lew, I feel you, pal. I drown my Mets misery with the fine vintage of KC Royals optimism," Mr. Oddo wrote. "The Wilpons have beaten me. They made me tap out. 'Uncle!'"
Mr. Oddo said the Wilpons have replaced early Mets owner M. Donald Grant, who was fired after a string of failures including the loss of Hall of Fame pitcher Tom Seaver, at the "apex (or should it be nadir) of Mets infamy." He echoed the call for the Wilpons to be removed.
"While I don't wish misfortune on any one, I hope this franchise is liberated sooner rather than later," Mr. Oddo wrote.
Mets pitchers and catchers report to spring training February 21.