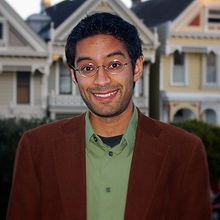 Slate, NPR, and Fast Company contributor Farhad "Don't Support Your Local Bookseller" Manjoo has sold a book. This important development raises two very important questions: What is this book? And furthermore, can I see him read from it at SoHo's relentlessly charming and lovable independent bookstore, McNally Jackson?
The news comes in today's (un-linkable) Publishers Lunch deal email via PL editor Sarah Weinman, in which they note that the book—entitled "Masters Of Our Universe" and based on his Fast Company piece "The Great Tech War of 2012"—concerns the modern warring of today's biggest tech conglomerates. It's primarily concerned with "Apple, Facebook, Google, and Amazon, as they expand beyond their traditional services and move aggressively into each other's territory, battling for dominance of our lives."
Mr. Manjoo's agent Larry Weissman of Weissman Literary sold the North American rights to Jofie Ferrari-Adler at Simon & Schuster for what we're told is somewhere in the "mid-200s" (S&S's Mike Jones also picked up British rights to the book). Preemptive foreign territory deals were also picked up Brazil's Intrensica and China's China Citic. Mr. Manjoo's deadline is Summer 2014.
As for whether or not he'll be selling or reading at McNally Jackson, it's likely too soon for either party to figure out (whether or not independent bookstores will even be around by then); maybe an armistice can be had. That said, given one McNally Jackson staffer's past objections concerning that scenario…
If you ever see Farhad Manjoo reading to a few rows of empty chairs in a store somewhere, please don't sit down. First because he is confused and full of "rankle" and might not be very entertaining, but more importantly, because it would kill literacy. No, I don't know if I'm being sarcastic there either.
Chances are, probably not.
fkamer@observer.com | @weareyourfek