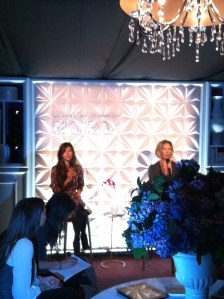 "Here's all you need to know about Fashion Week," a boutique designer from New Jersey was telling the New York Observer in the private American Express VIP SkyBox. "None of these sizes were made for you."
Karlanne, the owner of Fresh by Karlanne was wearing a beaded dress, feathered hair–"Is it poofing up??" she kept asking her girlfriend–and brown suede boots. She had the look of an old-time pro, and since the AmEx box–a partitioned off room above the theaters in Lincoln Center that serves as a subdued meeting area to provide American Express Cardmembers with exclusive access to fashion week experiences— we felt we should take all the advice we could get. Even if it wasn't pretty.

"You need Legs Pantyhose Control B Suntan Toe Opening," she told us, listing off words that made absolutely no sense. Was that all one brand? How did she know our size? What was a toe opening?
It turns out Karlanne has been in this business 30 years (her last job was as an executive at Fruit before deciding to open her own store, so she could just eyeball it. She then proceeded to give us the history of the stocking, and why it was necessary, before telling us that we didn't need to wear Spanx and sample sizes from showrooms would never work for us.
We dutifully recorded every word between bites of croissant and very sweet coffee (SkyBox is for playas) and were waiting for the BCBG Max Azria show to start when we felt a looming presence over us.
"Are you a buyer or a designer?" asked a gorgeous woman with long black hair and knee-high boots. She was asking with the not-yet-accusatory tone of someone who didn't want to be rude…quite yet. When we told her that we were actually elite journalists who just looked lost, she quickly smiled and introduced herself as former Vogue associate publisher (and AmEx's Skybox host) Lottie Oakley. As the show started, Ms. Oakley regaled us with tales of how she knew Candace Bushnell's real-life Mr. Big (which is inevitably what anyone does when you tell them you work for the Observer), and helped us identify the different sections of Fashion Week rows from our view above the crowds.
"Section A is your American editors, designers, and magazine people. Across from them are the Europeans," Ms. Oakley pointed out. "See, there's Amy Astley from Teen Vogue. She's the blond with the bangs." We nodded, although everyone in Section A was blond with bangs.
The middle section, Ms. Oakley told us, was for the buyers, while the chairs set up on the actual runway–literally, in the middle of the runway, for the models to walk around like a game of musical chairs–were reserved for the highest tier of celebrities and fashion bloggers.
Later on, Ms. Oakley would conduct a Q&A with Brandon Holley from Lucky magazine, and when the New York Observer asked how fashion writers and bloggers could snag themselves a front seat at the best shows, she laughed. "I was just sitting with the editors from Glamour," she said. "And they had a seat reserved in the front row that everyone wanted. But they weren't giving it up: they told us it belonged to a boy named Bryan. BryanBoy? He was a fashion blogger; he helped me use Twitter."
Oh yeah, that guy. We had to run to our next show, but Ms. Oakley promised to give us more tips if we felt like returning to the VIP suite. Compared to the throngs below, we might just take her up on that offer.