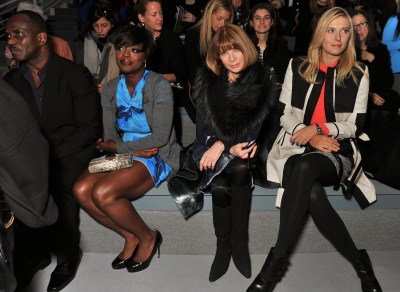 If we had the foresight to pick a week to fall into a nice, 168-hour hibernation, we might have chosen the one leading up to Valentine's Day. Think of all the tragedy we might have missed: the passing of Whitney Houston, Chris Brown winning a Grammy, the exhaustion of Fashion Week. And on top of all that? We completely forgot to buy something for Mayor Michael Bloomberg's birthday yesterday. But what do you buy the man who has already bought everything? (Another term is a bit out of our price range.)
Do you think he has a #17 jersey from the New York Knicks yet? We don't know a lot about this Jeremy Lin fellow—apparently he sleeps on a couch and survives off a diet of tweeted compliments from Chris Hayes—but we do know that the DSM-V is considering adding "Linsanity" in its updated edition. It refers to a pandemic wherein a nation collectively falls into a fugue state after Tebow-ing too hard, only to be woken up compelled to discuss the cultural importance of Asian-Americans and/or Harvard grads in the NBA at every social function.
And if this wasn't enough to make a normal person want to crawl under the covers, a non-Lin form of insanity has swept over the city: It's New York's semi-annual Fashion Week, a misnomer if we've ever heard one, since the event stretches itself thin over eight days, sort of like a model on a cleanse fast. And please, for the love of god, stop referring to Lincoln Center as "the tents" … we're not in Bryant Park anymore, Toto. For an occasion that's meant to celebrate haute couture, we've noticed that the front row seats for the shows are reserved for reality television stars and bloggers as much as they are for Anna Wintour or Uma Thurman. (Though hats off to whatever PR person decided to seat Kelly Bensimon next to New York Giants wide receiver Ramses Barden for Jill Stuart's show; neither knew why the other was important.)
There are other reasons we'd like this week to be erased from history and most of it can be found inside the pages of The New York Post. Mario Di Toro, the woman who accused Greg Kelly of rape, has been the subject of intense scrutiny by the publication after the District Attorney decided to drop the case due to sufficient lack of evidence. "Rape beauty" was just one of the terms used to describe Ms. Di Toro in this week's stomach-churning headlines. Just in case you weren't sure where Rupert Murdoch's paper fell on the side of women in "scandalous" legal battles, just check out their coverage of Louise Neathway, the British woman accused of extorting and stalking Yankees General Manager Brian Cashman after the duo had an affair. While little scrutiny has been put on Mr. Cashman (except by Mrs. Cashman, who has filed divorce papers), the Post isn't waiting for the verdict regarding Ms. Neathway, who may or may not have wiled the hapless GM away from his devoted wife. But why merely jump to conclusions when you can take a flying leap that would make even an Asian-American Harvard-educated Knick look under-ambitious? Just go for it and let the facts sort themselves out later.
Or do what we're doing and just forget this week ever happened.