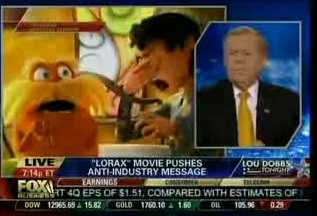 Back in December, FOX (FOXA) Business Network took on the most devious brainwashing film of our children's generation: The Muppets. They were basically promoting an Occupy Wall Street agenda, claimed Follow the Money host, Eric Bolling.
But it's 2012, and that means a new year for crazy! Now Lou Dobbs is on Fox News, railing that two recent animated films, Dr. Seuss' The Lorax and The Secret World of Arrietty (a Japanese adaptation of the children's classic story, The Borrowers) are promoting socialism, anti-1% messages, and green energy policies backed by a liberal agenda.


Why doesn't Mr. Dobbs just come out and say all of Dr. Seuss' work is anti-American? Oh the Places You'll Go! is obviously a crash-course for illegals on how to enter this country. Green Eggs and Ham? Of course they would be green. The Grinch Who Stole Christmas is all right, as long as the Grinch is still a metaphor for Jews, Muslims, and atheists.