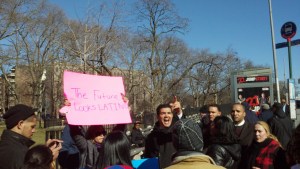 Influential Albany power broker, radio host and New York Post columnist Fred Dicker is not pleased Dominican ambassador Roberto Saladin sent a letter to Governor Andrew Cuomo asking him to support the push to create a new predominantly Latino Congressional district in Northern Manhattan and the Bronx. Mr. Dicker discussed Mr. Saladin's letter on his radio show, Live From The State Capitol, this morning with his fellow Post columnist, former Assemblyman Michael Benjamin.
"First of all, the presumptuousness of it is pretty interesting," Mr. Dicker said of the letter.
The story about Mr. Saladin's letter first appeared on The Politicker Monday. Mr. Benjamin criticized the letter in his column today.
"Such an intervention would be appalling from any foreign representative. Coming from a diplomat whose country is disenfranchising countless citizens of Haitian descent, it's obscene," he wrote.
On the radio this morning, Mr. Dicker concurred with Mr. Benjamin's view the letter represented an inappropriate foreign intervention, especially given the Dominican Republic's treatment of neighboring Haiti.
"You also make a very good point about how Hatians in the Dominican Republic, and Haiti and the Dominican Republic share the island of Hispaniola, are often denied the right to vote," Mr. Dicker said to Mr. Benjamin. "The Dominicans are not very kind in their treatment of Haiti, which they've walled off from their own nation."
Mr. Benjamin described the historical roots of the antipathy between Haiti and the Dominican Republic.
"It's a very historical discrimination based on the Dominican Republic once being a colony of Haiti, I suppose, and they've always resented that," he said. "It's led to all kind of mistreatment of Haitians. In fact, there's a U.N. report due out next month, which focuses on this historic discrimination against black Haitians."
An incredulous Mr. Dicker expanded on Mr. Benjamin's description of Dominican-Haitian relations.
"It's racial, it's racial discrimination, where people of Spanish background, or Hispanic background, in the Dominican Republic look down on people who are African American, or African Caribbean, Afro-Carib," he said.
Mr. Dicker went on to compare Mr. Saladin's letter about the Latino district to the Chinese government getting involved in New York City politics.