Stephanie Cota, senior VP of Marketing, gave us the scoop on why Barbie was making an appearance during Fashion Week.
"Barbie's always had a very good relationship with fashion," Ms. Cota said. "So we thought, what better way to celebrate than create a life-size Barbie dream house, where you can actually become your own life-size Barbie?"
"If you were creating a special Fashion Week editor edition, would you go for Anna Wintour Barbie or Kate Lanphear Barbie?"
Ms. Cota looked a little uncomfortable over taking sides. "I think it's up to every girl to make Barbie into who she wants her to be," the Mattel exec said.
Except a brunette, obviously.
jhanasobserver
"I just wrote a blog post for Elle.com about how Barbie was my first client," the famed stylist told The New York Observer. "She never complained, and was always in a good mood with whatever I put her in."
"But Barbie could never be a model...her boobs are too big!" We exclaimed.
"I've been thinking about that. We need a tomboy version. What if they took a Ken Doll and made him into a Barbie? They could call him Barbie Zee!"
jhanasobserver
"I told him that he should be telling people that he dyed his hair just for this party!" Patrick McMullan crowed while taking photos of the designer.
"Well, you certainly blend," we conceded to Mr. Benz.
jhanasobserver
...Go together like the girl who cut off all her sibling's Barbie's hair, and the younger sister who somehow made it look even cooler that way.
jhanasobserver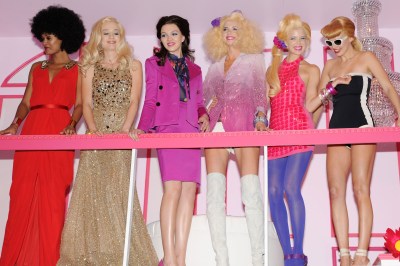 After last night, The New York Observer can confidentially say it has gone where no man has gone before: Barbie's Dream Closet.

Held at the David Rubenstein Atrium at Lincoln Center, the Barbie party was hopping by 8 p.m., with lines snaking outside the velvet ropes for a chance to walk into a larger-than-life girlhood dream. Thrown by Mattel, guests were greeted with pink cocktails with rock sugar stirrers, while above them in balconies reminiscent of those seen in the red (pink) light district, women dressed like the iconic doll posed and strutted to Katy Perry and 80s pop.
But the real attraction of the party were the Barbie "dressing rooms," where you posed while your picture was snapped on a giant screen, then allowing you to "try on" some of your favorite B-doll costumes. (It's funny how our virtual clothes technology really hasn't progressed since Cher's closet in Clueless.) Since we weren't exactly Barbie's biggest fans as kids, we decided to show our love last night by dressing like Barbie's literal cheerleader. We will not be showing you those photos, but enjoy these other ones!
How did we do?