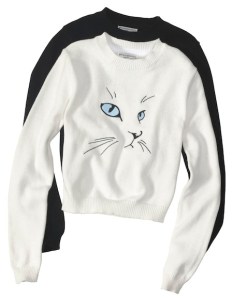 At first we thought it was an elaborate social experiment. A few days before New York Fashion Week, Condé Nast's populist women's magazine, Glamour, announced it had teamed up with hipster depot Opening Ceremony to bring readers an exclusive and stylish offer: a cat sweater—that is, a sweater embroidered with face of a cat—available in black and white, which would retail online for an affordable $99.
Was the joke that the Opening Ceremony imprimatur and Glamour's platform could convince fashion lemmings like us that cat sweaters are cool? Come next Fashion Week, would we be reading a Glamour tell-all about how it gamed the fashion marketing machine to trick us into spending $99 on a garment most often found in a Midwestern Salvation Army?
Not likely.
It turns out the cat sweater was just one of a slew of unconventional but earnest marketing experiments Condé Nast's stumbling cash cow debuted at Fashion Week—foremost its redesign.
The eye-catching new cover featured Amanda Seyfried, looking like a deer in Terry Richardson's flash (though Ellen von Unwerth actually took the picture), posed on a bathroom sink and aiming a cartoonish yellow hair dryer at her pretty head. The magazine swapped its hot-pink type face for the same bright yellow (the color suggests breaking news, editor in chief Cindi Leive told The New York Times) and traded traditional cover lines for the one-word headers typically found across a blog navigation bar (Sex! Shopping! Beauty! Guys! Gossip!).
The Ting Tings played the redesign party, held at the Box last Friday, Fashion Week's halfway point. The cover girl couldn't make it, but Krysten Ritter, the Breaking Bad star featured in the magazine's new entertainment news section, "Obsessed," looked swanlike in white as she danced in a booth by the stage. Coco Rocha made an appearance, but it was male models who were stationed along the walkway with trays of Champagne.
Upstairs, a topless variant stood beside a stripper pole, sipping water.
"Do you dance here often?" Off the Record asked.
He looked a little insulted.
"I'm just here to supervise, in case any of the ladies want to try out the pole," he said. "Do you want to give it a go?"
This exchange, combined with the sighting of a particularly striving quartet of socialites, hinted that the party was a destination for those not on the lists that night at Le Baron or the Boom Boom Room. But the all-you-can-eat Glamour burger truck stationed nearby reminded us of the upshot of being unpretentious.
Indeed, two initiatives launched by the magazine's business side during Fashion Week suggested a similar and refreshing honesty about its relationship to commerce.
"Magazines used to be just about raising awareness for brands," Glamour executive vice president and publishing director Bill Wackermann told Off the Record. "Today brands like Glamour are going well beyond that. We are bringing readers closer to purchase consideration and sale."
In its September issue, Glamour experimented with embedding SpyderLynk brand SnapTags on its pages. By downloading the Glamour Friends & Fans app to their smart phones and aiming its camera at the pages, readers could unlock original content or special promotions.
"September's SnapTag-enabled issue gave us a powerful story of consumer interaction and engagement," Mr. Wackermann said. "With the March issue, we took it to the next level by incorporating m-commerce."
Now readers can buy products right off Glamour's pages—advertisements and editorial.
To promote the app, the magazine set up taxi stands at the corners of Fashion Week's Bermuda Triangle (Lincoln Center, the Standard Hotel and the Condé Nast Building) and ferried influencers around town in their Lancôme Mobile Taxis. The rides were free, but the passengers were a captive audience for a two-minute video about the latest Lancôme and Yves St. Laurent beauty trends, which riders could shop by aiming their phones at the screen.
After the taxi promotion ended, Mr. Wackermann cut the ribbon on another m-commerce gimmick, this one for pedestrians. The Glamour Apothecary Wall, the 10-foot-tall, two-dimensional likeness of drug store shelves, now illuminates the sidewalk a few cobblestones away from the Standard Grill. Modeled on the virtual Tesco convenience store built in a Korean subway station last year, passersby can use the same technology to buy a John Frieda shampoo or Dove lotion, which might seem like necessities when one is stumbling out of the Standard.
"It's all about bringing shopping to her, whether that is in the magazine, or while she's out on the town … or even in the back of a taxi," Mr. Wackermann said.
The cat sweater, however, is strictly editorial, part of the "Glamour for All" campaign launched in conjunction with the redesign.
"Each month we'll partner with one of our favorite brands or designers to create an exclusive item at an accessible price," fashion development director Susan Cernek told Off the Record. They're not sharing on the literal profits, but the collaborations may pay off in brand visibility among the fashion-conscious set, a group that typically ignores Glamour.
And what better time to drum up awareness than Fashion Week, when the world's best-dressed and genetically blessed descend upon New York to blog and be blogged? Opening Ceremony art director Su Barber's cat, Basil, served as the model for the first installment, which applied the laws of YouTube virality to fashion design with improbable success.
The cat sweater was photographed on Susie Bubble, a blogger with 150,000 Twitter followers, Hanneli Mustaparta, a Vogue.com contributor and former model, and Kelly Framel, a.k.a the Glamourai, among others.
Call us a lemming, they made it look cool.