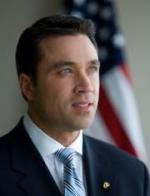 Congressman Michael Grimm went after President Barack Obama today for his administration's mandate that businesses like hospitals and schools, including religious ones, offer health insurance covering contraceptives to their employees. The Catholic Church, which opposes contraception, is strongly protesting the decision.
"As a Roman Catholic, I strongly believe in preserving the sanctity of human life, and this mandate completely violates that belief," Mr. Grimm said in a statement. His Staten Island-based district contains a heavy percentage of Catholic voters.
"I will not tolerate the Obama Administration's efforts to challenge the conscience and reproductive rights of the Catholic Church, and will do all I can to ensure that this mandate is overturned," he continued. "As Americans, we are fortunate to have the right to exercise our religious beliefs free of government intervention, and this case is no exception."
The Politicker reached out to Mr. Grimm's main Democratic opponent, Mark Murphy, who disagreed with the Congressman's explanation of the controversy.
"The fundamental issue here is whether women who work in hospitals, schools and other similar institutions that have some affiliation with religious institutions should simply have access to all reasonable medical options. There is no requirement that individuals do anything with this coverage that contradicts their personal beliefs. I believe that option should be left to the individual, not her employer."
Mr. Murphy also had less-than-kind words for Mr. Grimm's approach to the issue.
"Once again, when faced with controversy, my opponent is playing the Washington game of seeking publicity and creating division instead of seeking a workable solution," he said.
"My opponent believes that it is acceptable for a woman to be forced to give up her right to make such decisions for herself as a condition of employment. As a father of two daughters and a brother to five sisters, I fundamentally disagree."