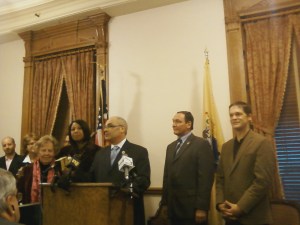 TRENTON – A celebratory mood was showcased following the vote on same-sex marriage, with Assemblyman Reed Gusciora (D-15) of Trenton, describing it as "a great day for all of New Jersey."
"Everyone can be part of the American dream," he said. "I'm just thrilled to death."
Gusciora said there weren't enough votes just a few weeks ago, but a "soft sell" approach worked, and enough people came on board.
The lawmaker added some Assembly Republicans would've joined them as well, but said "their vacation plans were set in stone."
Gusciora hopes Gov. Chris Christie, who has said he would veto the bill, will change his mind.
"Scrooge after a good night's sleep changed his mind," he said.
Assembly Speaker Sheila Oliver said it was "a historic day in New Jersey," adding it's a vote of conviction.
"At the end of the day, it doesn't get to be what is political savvy or advantageous," she said.
They're hopeful that within two years, they will garner enough votes to override the veto.
"We're going to do it," Gusciora said.
As Sen. Loretta Weinberg said, "This is not about theater…This is about people's lives."