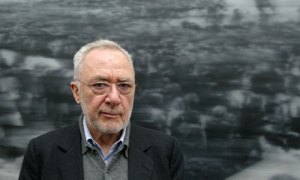 Today, Gerhard Richter turns 80.
His recent retrospective at the Tate had The Guardian's Jonathan Jones comparing him to Leonardo Da Vinci, one of his Kerze (Candle) painting graces the cover of Sonic Youth's least annoying album Daydream Nation and Don DeLillo wrote a story about two people driven to some pretty unpleasant actions by looking at his Baader-Meinhof cycle that appeared at MoMA in 2006. (Also, The Awl called our attention to this article in Der Spiegel about Mr. Richter destroying a number of early works either with a box cutter or by setting them on fire; it was, by his own admission, "an act of liberation.") Remember, this is also the guy who called the art market "daft," then saw bidders give him a new artist record (for a candle painting, incidentally) of $16.6 million at Christie's back in October.
We imagine Mr. Richter finds candles to be kind of trite at this point, but maybe he's a fan of cake?