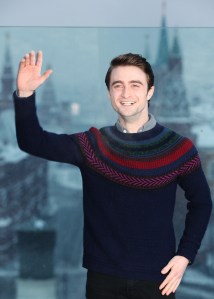 In a recent interview with Time Out London, the actor Daniel Radcliffe mentions that he was once rejected by a Frieze Art Fair dealer because he wasn't exactly what the gallery was hoping for in a buyer.
The relevant quote, courtesy of The Art Newspaper:
"I went to Frieze Art Fair and saw a painting by Jim Hodges. The guy said, 'No, we're waiting for a more prestigious collector to take that.' I was like, thanks, thanks a lot," says the miffed movie star in Time Out.
Bastards! But wait! Is that the whole story? Because he spun a similar yarn to The Guardian in 2009 that ended much more happily:
"The dealer said they wanted to sell it to a more prestigious collector, and Jim got word of this. Turns out he's a massive Harry Potter fan and insisted they sell it to me. Ever since then I've been really good friends with Jim and his best mate Tim, a photographer. And they are two gay guys, artists, in New York, and they introduced me to these amazing, crazy, mad, weird, extraordinary people. I was immediately embraced by the New York tranny community!"

The Hodges work, Mona D, Mary And Me, is "basically a drawing of blue ink on white paper. And it's the words, 'Oh for crying out loud' which is something his mum always used to say, as I think probably all our mothers did. And in the midst of it, it's weirdly calligraphic." What was its appeal? "I suppose – without meaning to sound like it's a link to Harry Potter – it's about finding something magical and fantastical in a mundane phrase. That's what's lovely about it."
The actor also apparently owns a Damien Hirst butterfly painting, which "[he] love[s]."