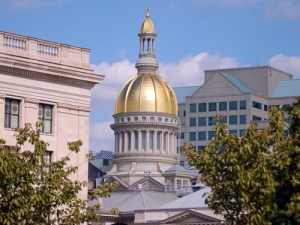 TRENTON – Senate President Steve Sweeney (D-3), Senate Majority Leader Loretta Weinberg (D-37), veteran Sen. Ray Lesniak (D-20), Garden State Equality founder Steven Goldstein and other marriage equality advocates basked in their short-lived victory today following the Senate's successful 24-16 passage of same-sex marriage.
"When Steve Sweeney makes a mistake, he makes up for it big time," said Lesniak, referring to Sweeney's 2009 abstention, which the Senate president changed to a resounding affirmative vote earlier this afternoon.
"We can talk about the veto, but the fact that this bill passed the Senate is very meaningful to the state of New Jersey," said Goldstein, who spoke of a 70 percent increase in Senate support in just two years.
"It means the world isn't changing, it means the world has already changed," Goldstein said.
Heading for a veto by Gov. Chris Christie after Thursday's Assembly vote on the bill, Sweeney said he has no plans to reverse course on an earlier committment opposing a ballot issue for marriage equality, which Christie favors.
The marriage equality champs would need three additional Senate votes to effect an override of a gubernatorial veto. Sweeney would not speculate publicly about where he could wrangle those votes.
"We will never allow civil rights issues for the ballot," Sweeney said.
After famously abstaining in 2009, the Senate president reflected on his own decision to support same-sex marriage.
"I'm in a conservative district myself," Sweeney said. "That's what gave me pause. But you know what? It's all right."