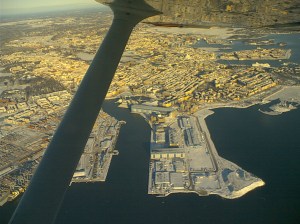 Yesterday, the Guggenheim and Deutsche Bank announced that the museum they run together in Berlin will close by the end of the year. Many were surprised. But not Helsinki, Finland, mayor Jussi Pajunen, who today told the Helsingin Sanomat paper that he knew about the plan since last fall.
Mr. Pajunen has been an advocate of the initiative to open a branch of the Guggenheim in Helsinki, and said that the closure helps that cause, since a Finland Guggenheim "would be the only Guggenheim museum in the north of Europe." (Thank you to @museumnerd for bringing this to our attention.) "The closing of the museum in Berlin naturally puts the Helsinki project in a better position," the mayor said.
(Writer/artist and Gallerist reader Greg Allen made a similar point in a Twitter message yesterday, noting that ending the Berlin outpost meant "[l]eaving Northern Europe severely under-Guggenheimed.")
The Helsinki city government is currently considering a proposal to build a $180 million Guggenheim on the city's waterfront.