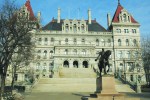 Imagine you are a citizen of the City of New York, and you have, you believe, been called to a career in public service. You have begun raising money and reaching out to friends, and maybe hired a consultant or a pollster.
It is now the second week of February and due to some colossal inertia in Albany, if you were this citizen who dreamed of service in the Legislature, you would likely not know a) which district you live in b) whether or not that district has a sitting lawmaker and c) when, precisely, election day is.
In other words, New York is about to embark on an election season as chaotic and unpredictable as any in memory.
"Excuse me! It's the twilight zone!" screamed Doug Muzzio, a professor of public policy at Baruch College, when asked to give his assessment of the state of play. "The craven self-interest and disregard for even the rough-and-tumble of democracy by these people—they don't get it at all. They want the game fixed and they are the fixers!"
He paused for a moment to catch his breath, or to keep his aorta from exploding into the telephone.
"WHAT THE FUCK ARE THESE PEOPLE DOING!"
The immediate reason for this political clusterfail is that—through a combination of sloth, happenstance and perhaps Machiavellian political calculation—two unrelated events traveling down parallel tracks went profoundly off the rails.
The first is that last year the Department of Defense denied the State of New York a waiver to hold its primaries in September. The waiver had been granted ever since Congress passed a law three years ago mandating an earlier election day to help military personnel stationed overseas with voting.
The Department of Justice sued to force the state to move up the September primary, and after several months of delays, a federal judge ruled two weeks ago that the primary for congressional seats was to be held June 26.
As soon as that news broke, those considering a run for Congress—and those consultants and staffers helping them—broke into a sprint, as election day went from a comparatively leisurely eight and a half months away to now only five months off. (Privately, some politicos still doubt that this will really be the election day, perhaps expecting the power brokers in Albany to somehow defy a federal order or being so inured to chaos that they refuse to believe the state could actually have settled on a date when the elections are supposed to be held.)
But even if candidates for Congress at least know that they will face voters on June 26, this news does nothing for those in the State Assembly or State Senate and those who hope to join that club. The judge's order applies only to federal races, so the state primary date remains unsettled. Republicans in the State Senate have argued that the June primary is too close to the end of the legislation session (which is slated to be completed the week before) and could thus lead to unnecessary politicking (ahem) during what are supposed to be business hours. They have pushed for having state races decided on the old election day in September, or, possibly, pushing the primary to August—when, Democrats point out, most New Yorkers are away, or at least tuning out politics.
If the Republicans prevail, or if they are unable to come to an agreement with the Democrats (which will, in essence, mean Republicans prevail), then New Yorkers will be asked to go to the polls four times in the course of eight months: once for the presidential primary in April, again for the congressional primaries in August or June, a third time for state legislative primaries in August or September, and then a fourth time for the general election in November.
Presumably by then ballots will have been printed with actual candidate names on them. Currently, voters around the state don't have any idea who is vying to be their representative. For months, lawmakers in Albany have been holding hearings as part of the once-a-decade redistricting process to redraw legislative and congressional maps. Drafts of those maps were expected by last October, with final versions in hand by the first of the year at the latest. Instead, winter is turning into spring, and no candidate knows precisely which neighborhoods to go door-knocking in. A draft of the new maps for the State Senate created three districts out of whole cloth and pushed seven Democratic incumbents into four districts.
Governor Andrew Cuomo has threatened to veto it, sending the matter to the courts and creating more uncertainty and delay.
And if you are that citizen called to a career in public service, what does your pitch to voters sound like?
"Hi, I'm John Q. Public. Please come out and vote for me in June. Or in September. Unless you are drawn out of the district. The incumbent has been failing our community. Unless he is drawn out of the district. In which case, never mind."