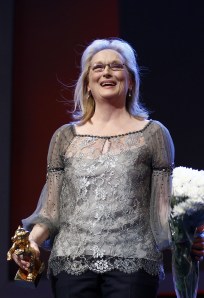 The Academy has released an incomplete list of this weekend's Oscar presenters. Based on past experience, what categories shall they present. Here are our best guesses!
Christian Bale will present Best Supporting Actress; Melissa Leo will present Best Supporting Actor; Colin Firth will present Best Actress; Natalie Portman will present Best Actor. This gender-swapping return of last year's winners is a predictable tradition; the only thing surprising about it is that Melissa Leo won an Oscar one year ago instead of eight, which is how long ago it feels.
Halle Berry will present Best Documentary Feature and Short. This seems like her level of fame right now.
The cast of Bridesmaids will present Best Costume Design. Because women can make jokes about dresses!
Bradley Cooper and Emma Stone will present Best Sound Editing and Mixing. Only two charming young(ish, in Mr. Cooper's case) stars can get us excited about two seemingly indistinguishable categories.
Tom Cruise will present Best Picture. Doesn't it seem sort of weird that he never has? And doesn't it seem as though he's been fully rehabilitated?
Penélope Cruz will present Best Cinematography. Sure!
Cameron Diaz will present Best Art Direction. This is the sort of early-in-the-ceremony category for which it's perfect to have on hand an early-2000s star whose rep couldn't arrange something later in the ceremony.
Michael Douglas will present Best Director. He's already presented Best Picture twice but he's still a pretty prestigious guy. Practice saying "Hazanavicius," Gekko!
Will Ferrell and Zach Galifianakis will present Best Visual Effects. And do some sort of Rise of the Planet of the Apes-themed skit in the process.
Tina Fey will present Best Makeup. And tell a joke about how much makeup it takes to keep her from looking like either a wrinkled old man or an acne-scarred teenager in the process.
Tom Hanks will present the "In Memoriam" montage. He can't present Best Picture because one of his own films is nominated (the Academy's actually done this before when Jack Nicholson presented the prize to The Departed, but let's hope they learned from how gauche that looked) and his presenting Best Director would only call attention to the fact that he directed Larry Crowne last year. The only other thing someone with all Mr. Hanks's gravitas can do is present this segment.
Angelina Jolie will present Best Foreign Language Film. What a wonderful way for her to seem benevolent in defeat after not having been nominated for her own foreign film (which was not eligible in this category).
Jennifer Lopez will present Best Original Song. A theoretical actress and theoretical singer, Jennifer Lopez is the perfect simulacrum of a presenter of a music category at the Oscars.
Meryl Streep will present Best Adapted and Best Original Screenplay. "For actors [giggle, stern look over glasses], it all begins with a script," the star of The Iron Lady will inaccurately say.