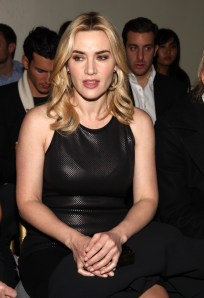 With this past weekend's Grammys, producer Scott Rudin became the latest entertainer to earn the ugly, ineffective title of "EGOT"–having won an Emmy, Grammy, Oscar, and Tony. (His new Grammy was for The Book of Mormon.) He's one of only eleven such winners–and the first in a decade. We demand yet more societal approbation for our most gifted singer/actor/producer/whatevers! Here, in order, are some entertainers who stand a chance of getting the Quadruple Crown (sorry, but a way better term than "EGOT") in the next ten years:
Kate Winslet
Why she could do it: All she needs is a Tony, having immediately jumped to TV once she had an Oscar in hand–and winning an Emmy immediately thereafter. She has the eye of the tiger and is likely training to play Mama Rose as we speak.
Mitigating factor: The Tonys have gotten more sensitive about awarding carpet-bagging movie stars.
Fun fact: She beat the Muppets, among others, to win her Grammy for Best Spoken-Word Album for Children.
Robin Williams
Why he could do it: We haven't heard from Robin Williams in a while, and it'd be a nice little comeback narrative if he were to win the Tony he needs to complete the square.
Mitigating factor: The last time we heard from him was an appearance on Broadway after a long absence in Bengal Tiger at the Baghdad Zoo, for which he failed to medal.
Fun fact: He probably shouldn't have an Oscar!
Al Pacino
Why he could do it: He just needs a Grammy, and other awards bodies have shown a willingness to hand Mr. Pacino trophies more as a signifier of respect/fear than for a decent performance (c.f.: Scent of a Woman).
Mitigating factor: Not known for a mellifluous voice, and a spoken-word album for children is probably out of reach.
Fun fact: He was nominated for a Blockbuster Entertainment Award for Any Given Sunday, which he lost to Tom Hanks.
Elton John
Why he could do it: He's missing an Emmy, and given the spotty state of his career (recently picking a fight he couldn't hope to win with Madonna over a song from Gnomeo and Juliet) is about five minutes from a PBS special or self-aggrandizing 30 Rock guest spot.
Mitigating factor: Has probably picked fights with half the television Academy; was not amazing on Saturday Night Live last year.
Fun fact: Is already a knight and summarily probably doesn't care about the Emmys.
Trey Parker and Matt Stone
Why they could do it: If and when The Book of Mormon comes to the screen, it could give the South Park creators the Oscar they need.
Mitigating factor: Failed to win an Oscar for their song from the South Park movie, and are probably better-remembered among Ernest Borgnine's contemporaries for dressing in drag at the ceremony.
Fun fact: Really wacky guys!
Cynthia Nixon
Why she could do it: She's such a Miranda! (By which we mean: Hardworking.)
Mitigating factor: The award she needs is the hardest one to get (the Oscar), and she was passed over for the Rabbit Hole role that got Nicole Kidman nominated last year.
Fun fact: Actually defines herself as "more of a Cynthia."