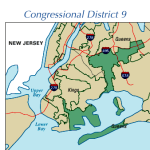 New York may be losing two Congressional districts this year, but Assemblyman Rory Lancman, who announced his intentions to run for recently-elected Congressman Bob Turner's district today, told The Politicker he's confident Mr. Turner's seat won't be among them. His sentiments are echoed by Shelly Silver, who said he'd like the district to be kept around, and who, as Assembly Speaker, has as much say on what the final map will look like as anyone.
The conventional wisdom has long been that Mr. Turner's Queens-based district would be chopped up and handed to the surrounding Representatives. However, if the district is kept largely intact, some of those surrounding seats could easily be significantly impacted.
With relatively anemic growth in Queens and Nassau counties compared to the rest of the state, it could be very difficult to avoid eliminating at least one district in the region. Although there are nine Congressional districts touching either of those two counties, some of them are particularly challenging or impossible to erase.
The two minority-majority districts, belonging to Representatives Nydia Velázquez and Gregory Meeks, are likely protected by federal law (and wouldn't really be possible to eliminate anyway).
Three Representatives are likely too influential to see their districts eliminated and are not thought to be anywhere near the chopping block: Joe Crowley, who leads the Queens County Democratic Party; Peter King, who's the most senior Republican in the New York delegation; and Steve Israel, who heads the electoral arm of the House Democrats. Eliminating any of these Congressmen's districts could technically be done, but it would likely be de facto eliminating someone else's district by placing a powerful incumbent's electoral base in their seat.
With these five officials probably safe, only four Congressional Members remain: Bob Turner, Carolyn McCarthy, Gary Ackerman, and Carolyn Maloney.
Ms. Maloney, who's a senior member of the House's Financial Services Committee and whose district is overwhelmingly based in Manhattan's Upper East Side, would probably be hardest of the four candidates to eliminate. In addition to the difficulties of carving up a district containing only a small piece of Queens, Manhattan's many important political leaders would likely strongly object to the chaos the move would cause in their borough.
And if Congressman Turner's district is indeed kept mostly intact, the most obvious remaining option would be to combine the Nassau portions of Ms. McCarthy's and Mr. Ackerman's districts into a single seat.
This would mathematically work out very well as it leaves four Congressional Members entirely in Suffolk and Nassau counties, which can house exactly 4.05 districts under the new maps. Right now, five Representatives call those two counties home, with Mr. Ackerman's district also containing a slice of Queens.
The extremely theoretical plan could work out nicely for Mr. Crowley, who as the Chair of the Queens Democratic Party, is thought to want to shed the Bronx portions of his district. Absorbing the Queens remnants of Mr. Ackerman's district would allow Mr. Crowley to do precisely that.
The dominoes in this scenario could continue to fall in many different areas. With more Bronx territory available, there would be enough territory for a new Latino-majority district to exist next to a transfigured black plurality district for Charlie Rangel that shifts out of Northern Manhattan into the Bronx to Westchester. The Politicker reported that State Senator Adriano Espaillat is already gearing up for a run in this Latino district.
This, again, very hypothetical Latino district, could then come at the indirect expense of Congressman Maurice Hinchey's district. Mr. Hinchey, who represents the upper reaches of the Hudson Valley, is not running for reelection. Congressman Eliot Engel, who currently represents northern parts of the Bronx, might see his district, in addition to those belonging to his Hudson Valley colleagues, travel North towards Hinchey's territory as a result.
(Another district would still need to be eliminated in Western New York, the area of the state that showed the most population loss, under this scenario.)
Alternatively, one could scrap the Latino district proposal and give Mr. Engel more of the Bronx instead, possibly leaving Mr. Rangel in Manhattan as he allegedly wants. The Buffalo area, whose districts need to grow more than anywhere else in the state, might be able to push other districts far enough East as to absorb Mr. Hinchey's territory, but it could be difficult.
Or, maybe all of the talk about keeping Mr. Turner's district is a smokescreen or a negotiating tactic, and his district is eliminated anyway.
Update: Another thought is that perhaps Mr. Turner's district could absorb Mr. Nadler's Brooklyn territory, and Mr. Ackerman could see his district pull almost entirely into Queens as a result, allowing all of the Queens and Nassau incumbents to have districts to run in. Mr. Nadler and Ms. Maloney could then see their districts push into Northern Manhattan while Mr. Rangel's district pushes into Westchester.