Jamestown Properties and Rockwood Capital, along with Crown Acquisitions and Murray Hill Properties, finalized their deal to purchase 530 Fifth Avenue for a reported $390 million, officials said.
The property, which was previously owned by Joseph Moinian and the Chetrit Group, will receive a $20 million renovation to upgrade the building.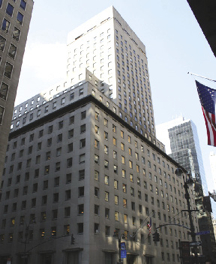 Improvements include a renovation to the building's lobby, a new security system, brand new elevators and a full-on reconfiguration for the mezzanine-level floors, which will be turned into additional retail space.
Jamestown Properties said it was approached last year by Haim Chera of Crown Acquisitions to gauge its interest in purchasing the property, said Michael Phillips, chief operating officer of Jamestown Properties.
"We decided we were [interested], and then we brought in Rockwood Capital as well," he added. "It seemed like a great opportunity for all our firms."
The 24-story space already had a strong retail presence, with tenants like Lenscrafters and Fossil, and a 35,000-square-foot space that at one point was scheduled to be a Syms store until the retailer pulled out last fall.
"The forties on fifth are really a dynamic place right now for retailers, but really also the office is very high quality for a building of its age," said Mr. Phillips.
Rockwood and Jamestown assumed the largest ownership positions, said those close to the deal.
The Chetrit Group and Joseph Moinian paid $210 million for 530 Fifth Avenue in 2004.
David Falk, president of Newmark Knight Frank, will be spearheading all leasing for the office portion of the building, which features 24 floors that range from 7,300 to 32,000 square feet in size.