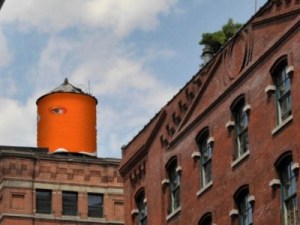 The Art Newspaper reports that nonprofit organization Word Above the Street has signed up a bevy of artists for a 12-week project to transform 300 of New York's water towers into public artworks. Ed Ruscha, Lawrence Weiner, Marilyn Minter, E.V. Day, Tony Conrad, Andy Goldsworthy and Tony Oursler, as well as rapper Jay-Z are just some of the artists on board with the aptly named Water Tank Project, an effort to increase public awareness of the need to conserve water.
Word Above the Street is helmed by filmmaker Mary Jordan and supported by a team of curators that includes some art world bigwigs, like Lisa Dennison, the chairman of Sotheby's North and South America; Neville Wakefield, the senior curatorial adviser for MoMA PS1; Alison Gingeras, the head curator of François Pinault's collection; and Toby Devan Lewis, a trustee of the New Museum of Contemporary Art.
Though the full roster of artists is quite impressive, the project is not only open to established artists. The website has posted an open call to "all artists regardless of age, experience, sex, race, color, or national origin" and plans a school competition so some young artists will get the chance to express themselves across New York City's skyline.
Here's hoping Rachel Whiteread, a pioneer in water tower art, gets a crack at the project.
Update, Feb. 25: According to a representative at the Water Tower Project, at this time Radiohead singer Thom Yorke is not a part of the project, as was originally stated in this post.