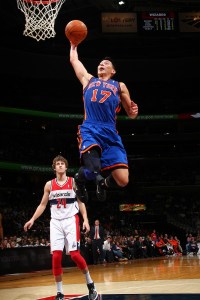 Let's just say, he's over it, and who could blame him? A 6-foot-3 body  is not meant to sleep on a couch (unless induced by the consumption of a few beers). But up until recently, Knicks point guard, Jeremy Lin, didn't seem to have a choice. After being cut from the Houston Rockets and then waived by the Golden State Warriors, the Knicks picked Lin up in December. His future with the team, whether or not they would sign him for a second year, was uncertain. Rather than risk renting, Mr. Lin decided to crash his brother's couch, as has been noted in almost every mention of him.
Lin's stellar performance, scoring over 20 points in each of the Knicks last three games, has put his team on a winning streak, and secured him a second year contract set at a minimum of $613,567. And now it's time to crack open the piggy bank! Sources say Lin is looking to buy or rent in either Westchester County, where the Knicks practice, or the city, according to the Post.
"Yeah, I'm gonna get my own place soon," he told reporters on his way to a game in Washington, according to The Daily News.
It's about time! A grown man, especially one who stands so tall, ought to have his own place already.
realestate@observer.com