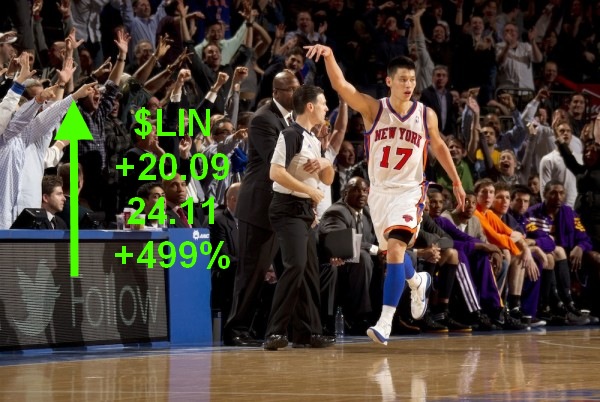 Jeremy Lin's rocketing stardom is a game-changer, in more than a few ways. For one thing, the Knicks are winning and the Garden's regularly packed, nowadays. For another, besides breaking records as the first Harvard grad since the 50s to play in the NBA, and only the fourth Asian-American to play in the league, he might be one of the few NBA players who can claim to have made a significant impact on financial markets.
[VIDEO: JEREMY LIN DANCES THE DOUGIE]
$MSG is the ticker symbol for Madison Square Garden Entertainment, which—shortly after it was spun off from Cablevision in 2009—has traded on Nasdaq. The last trading high it reached was $28.68, in April 2011. In December, it peaked again, making its way up to $30.20.
And then, at the beginning of February 2012, America went Linsane: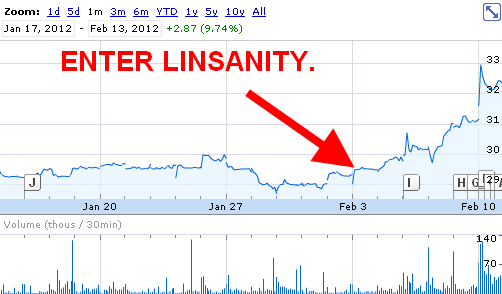 A closer look: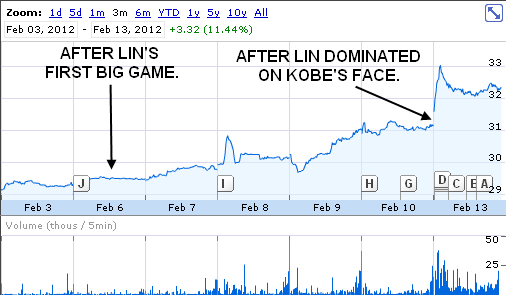 Yes, that's a 13% jump since Jeremy Lin's starmaking Feb. 4 debut.
Bloomberg Businessweek rounds up $MSG in their collection of stocks experiencing "unusual moves" (like a stupefying pick-and-roll, for example) noting that the stock "gained 3.6 percent to $32.28, rallying for the ninth straight day." CNBC Sports Business reporter Darren Rovell had another perspective to offer:
Jeremy Lin: Great for the Knicks, the NBA, Ivy League March Madness tournament bids, and the financial markets. Non-ticket holders, Kobe Bryants, and Carmello Anthonys: Not so much.
fkamer@observer.com | @weareyourfek