With "Linmania" sweeping Knicks fans (and Chris Hayes) off their feet, it makes sense that everyone who has come in contact with the Hahvad-educated point guard is currently trying to monetize the situation. JP Moore from Buzzfeed was the first to find these yearbooks from Jeremy Lin's middle school on Ebay, but we won't be putting down $4,800 to "Buy It Now" until we get the signature on one of these babies authenticated.


The description for the signed 7th grade yearbook reads:
YOU WILL RECEIVE AN AUTHENTIC ORIGINAL JEREMY LIN YEARBOOK WITH HIS PHOTO, SIGNATURE, AND A NOTATION TO A FRIEND FROM JLS MIDDLE SCHOOL WHEN JEREMY WAS IN 7TH GRADE IN THE YEAR 2001.

INCLUDED ARE HIS PHOTO, AUTHOGRAPH, AND A NOTATION AS WELL AS THE ENTIRE JLS MIDDLE SCHOOL YEARBOOK.

PLEASE FEEL FREE TO EMAIL WITH ANY QUESTIONS OR FOR MORE INFORMATION.

THANK YOU.
Apparently, the seller (who goes by the name Doida and ships from Palo Alto, California) or whomever he bought the books from had a falling out with Mr. Lin, because the 8th grade JLS yearbook does not include the NBA star's signature.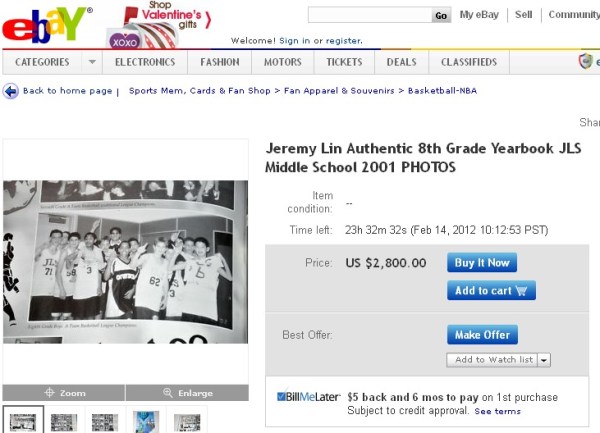 So far, three offers have been made to buy the signed books, and all three have been declined, as the seller obviously thinks the worth of Mr. Lin's signature will only increase.
Just think of how much money Mr. Lin's brother could make if he sold his couch today.