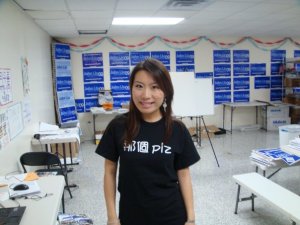 Comptroller and potential mayoral candidate John Liu released a statement this afternoon expressing his surprise at the arrest of his campaign treasurer, Jia "Jenny" Hou.
"I am stunned by this news about Jenny Hou.  These accusations against her are uncharacteristic and unexpected.  Jenny is a smart, hardworking person who I hope will be treated fairly," Mr. Liu said. 
Ms. Hou, who is just 25-years-old, was arrested this morning on fraud charges stemming from an ongoing investigation into Mr. Liu's fundraising. According to the complaint from the U.S. Attorney's Office, Ms. Hou was allegedly "participating in a scheme that used 'straw donors' to funnel to the campaign" with "large, illegal contributions that were well above the individual limit."
Ms. Hou worked with Mr. Liu in the 2009 comptroller's race. She joined his mayoral campaign last year after being recruited by his aide, Mei Hua Ru.