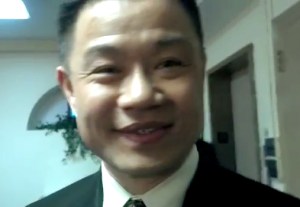 Embattled Comptroller John Liu appeared at the Transport Workers Union Local 100 Black History Month celebration in Harlem tonight where he briefly addressed the ongoing investigation into his fundraising that resulted in the arrest of his mayoral campaign treasurer, Jenny Hou, yesterday. During a brief conversation with reporters following his speech at the event, a smiling Mr. Liu said he plans to remain in office in spite of the scandal.
"I'm just past my halfway point of my term as City Comptroller," he said.
Mr. Liu discussed his intention to stay in office after Capital New York's Azi Paybarah asked him about City Council Speaker Christine Quinn's rather noncommittal response to the question of whether Mr. Liu can continue on as an effective comptroller.
"That's a question that Comptroller Liu is going to have to answer," Ms. Quinn said
Mr. Liu said he's been doing his job "vigorously" and has no intention of slowing down.
"I've been doing my job vigorously. We're going to continue to go after waste in city spending, we're going to audit city agencies to maximize the effectiveness of taxpayer's dollars, invest the pension assets and access the capital markets to underwrite our bonds and continue to do the work of the comptroller's office. And it's a privilege to be in this office."
Ms. Hou is the second person arrested in conjunction with the investigation into Mr. Liu's fundraising. His donor Xing Wu "Oliver" Pan was arrested in November. Both are accused of participating in a scheme to use straw donors to funnel illegal contributions to Mr. Liu's campaign committee. Prior to the scandal, Mr. Liu was widely expected to run for mayor in 2013. Yesterday, he admitted he is reconsidering his mayoral ambitions.
The Politicker asked Mr. Liu about reports his aide, Mei Hua Ru, who recruited the 25-year-old Ms. Hou to be his campaign treasurer, was the primary conduit between his campaign and his donors. He declined to comment.
"You'd have to show me what you are talking about. Thank you," Mr. Liu said before walking away.
Watch a video of Mr. Liu's brief remarks to reporters below.