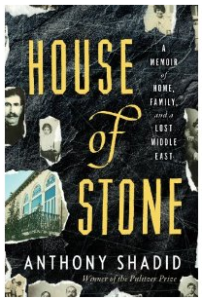 Anthony Shadid, a Pulitzer Prize-winning  journalist who reported on the Middle East for the New York Times and Washington Post, passed away on Thursday in Syria. The details surrounding Mr. Shadid's death are unclear but he may have suffered a fatal asthma attack. Mr. Shadid was in Syria reporting on the ongoing conflict between political opponents of President Bashar al-Assad and the Assad regime–a characteristic assignment in his remarkable career:
The death of Mr. Shadid, an American of Lebanese descent who had a wife and two children, abruptly ended one of the most storied resumes in modern American journalism. Fluent in Arabic, with a gifted eye for detail and contextual writing, Mr. Shadid captured dimensions of life in the Middle East that many others failed to see. Those talents won him a Pulitzer Price for international reporting in 2004 for his coverage of the American invasion of Iraq and the occupation that followed, and a second Pulitzer in 2010, also for his Iraq reporting. He also was a finalist in 2007 for his coverage of Lebanon, and has been nominated by the Times for his coverage of the Arab Spring uprisings that have transfixed the Middle East for the past year.
Anthony Shadid's 2004 Pulitzer article was "A Boy Who Was 'Like a Flower,'" written for the Post. It was a powerful piece about the death a 14-year-old Baghdad boy, Arkhan Daif:
With a cotton swab dipped in water, he ran his hand across Daif's olive corpse, dead for three hours but still glowing with life. He blotted the rose-red shrapnel wounds on the soft skin of Daif's right arm and right ankle with the poise of practice. Then he scrubbed his face scabbed with blood, left by a cavity torn in the back of Daif's skull.

The men in the Imam Ali mosque stood somberly waiting to bury a boy who, in the words of his father, was "like a flower." Haider Kathim, the caretaker, asked: "What's the sin of the children? What have they done?"
Mr. Shadid was also an author. His most recent book, House of Stone: A Memoir of Home, Family and a Lost Middle East, will be released at the end of March.
[NYT]