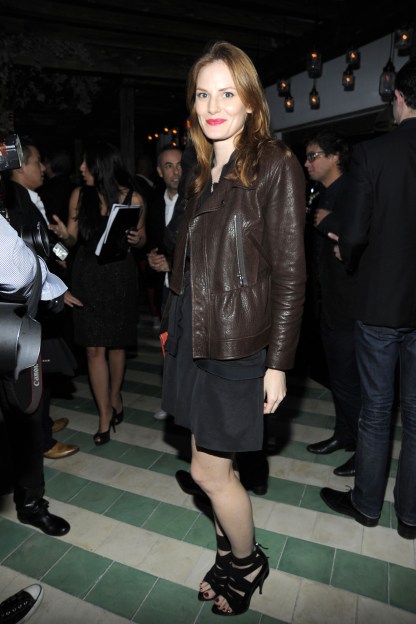 Navigating the realm of fashion publication relations can be a difficult job. For in-house publicists and leading New York PR firms, such as KCD, PR Consulting, Karla Otto, Starworks, Bismarck Phillips and HL Group—fashion week is a marathon: RSVP-management, developing press releases, endless email chains, photography and artistic direction, event and runway production, front-of-house organization, seating charts and VIP affairs!
Scheduling and logistical nightmares are frequent; editor struggles occur; and drama is a guarantee. For international firms, the chaos continues in Milan and Paris. Even more maddening, some publicists have red carpet dressing to deal with for the Grammys and fast-approaching Oscars!
It took some effort, but The Observer hunted the striking Hallie Chrisman, Publicity Director at KCD— to get the scoop on what her life has been like of late…
What does fashion week equate for you?
Since I go to London and Paris it's actually more like fashion month—to me it equates to training for a marathon, you have to make sure you don't burn yourself out in the beginning. New York is always the most all-consuming, as we each have our own shows we individually oversee and then are staffed to work the 20-plus shows and events we handle for New York Fashion Week. Once the team goes to Europe we generally focus more on the U.S. press aspect of each client's show, as well as providing support to any shows our Paris office is handling. So, as I said, it's a marathon.
KCD is everywhere, with a blue-chip roster of clients! How do you balance it all?
I'm very fortunate to love what I do and where I work, however when it's not fashion week(s) (or the CFDA Awards, or the Victoria's Secret show, or another major project) I always make time to see friends and travel to maintain a healthy balance between my work and personal life.
When you need a break, where is your go-to for a drink or good eats during fashion week?
One Lucky Duck Juice Bar—it is located conveniently across the street from the office in Chelsea Market. I love the Strawberry Blonde shake and then I always get a ginger shot to stave off the inevitable fashion week cold.
Take us to a show—where are you? What are you doing? We saw you at Wang!
It depends on the show, at some shows I am running the backstage press and photographers, while at others you will find me inside the venue helping seat guests and greeting the editors, retailers and VIPs.
How many people try to crash shows and after parties? Any good stories?
There are always some crashers but they are pretty easy to spot and we run a pretty tight ship so we don't get as many as you might think. Some doors—you might not get crashers per se but more fans who will just wait outside to watch and see who is entering and exiting the event. Even though they will never get in, you have to at least give them credit for their dedication.
What celebrities are incredible to work with? Is GPS like fashion week "Big Brother?"
Fashion GPS was initiated when KCD PR approached Fashion GPS President Edwin Mullon to create a cutting edge technology to control inventory management and then events management. It's so great that most of the industry uses it so we are all on one system to make editors, retailers and our lives easier!
Which editors do you look forward to seeing during fashion week? Who has the best style?
I wouldn't be a very good publicist if I played favorites now would I? A lot of my close friends are actually fashion editors so it's always great to see friends and catch up (if only briefly) during fashion week.
Any fun nightlife plans? What will be the best after party?
I try to stay under the radar during New York or else I don't think I would be able to make it through Europe; however I try and stop by my client's after parties if I can. Jason Wu and Prabal Gurung both threw great after parties this season and then of course there was the Miu Miu party we handled and the CFDA Impact Exhibit opening party at FIT, which kicked off the year-long celebration of the CFDA 's 50th anniversary.
Best part of being a fashion publicist?
Getting to do what I love every day and working with some of the most talented, smart and interesting minds in the industry. Plus going to London and Paris twice a year isn't too bad either!
It's all over! Where do you flee to rejuvenate?
I try and get away for a weekend once I get back from Paris. This season I am planning on visiting friends in Austin for a long weekend. I also always start making my summer vacation plans during fashion week in February, this summer it will be several trips to Nantucket and is also looking like a week in Turkey.