The wave of tech tenant leasing deals in Midtown South continues.
Knewton Inc., a provider of sophisticated online-based learning and education programs for students and test takers, has signed a 16,000-square-foot lease at 100-104 Fifth Avenue, an office building owned by the Kaufman Organization. The term of the deal, which is for the 20-story building's entire eighth floor, stretches ten years. Asking rents for the space were $55 per square foot.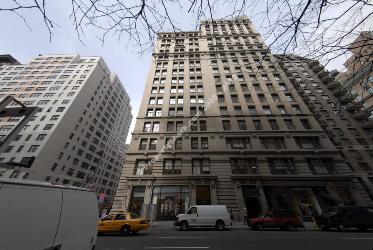 The lease is the latest company in the tech industry to come to the property. Last year, Apple signed a deal for about 40,000 square feet at the building, taking the 14th floor, part of 15 and a pre-built space on the sixth floor. The user review website Yelp, meanwhile, recently came to the building as well, signing a 9,505-square-foot lease for a portion of a floor last year.
Grant Greenspan, an executive at the Kaufman Organization who handles leasing at the roughly 275,000-square-foot property, said that Knewton was drawn to the building by its tenancy in the sector and also because the space on eight came with an outdoor balcony area.
"The space has a unique quality to it with a roof deck," Mr. Greenspan said. "These types of companies make it a priority to create the right work environment for employees."
In addition to Apple, Yelp and others, Mr. Greenspan said he and the Kaufman Organization have tried to recruit tenants in related fields that would create a kind of synergy among tenants. The firm recently signed a 10,600-square-foot deal for a portion of the third floor with FirstMark Capital, a venture fund that has been a seed investor in a number of prominent tech companies, including Knewton Inc.
"What I'm trying to create is a diverse tenant base, but also a community," Mr. Greenspan said. "The fact that you have tenants in these different facets of business validates the environment and creates a need and desire to be there. When a CEO is making a decision, if it's good enough for Yelp, they might look at it a different way." The Kaufman Organization purchased 100-104 Fifth Avenue at the end of 2010 after the building had fallen into foreclosure and has embarked on a successful leasing campaign. Mr. Greenspan estimates that over the 14 months the company has owned the property, which is a block west of Union Square, he and his leasing team have filled 120,000 square feet of space. Only a few pockets of vacancy now remain, about 9,500 square on the seventh floor and a 10,000-square-foot space on five.
"I have had offers and a lot of lookers," Mr. Greenspan said. "We are trying to be selective. We want the right fit and I think, especially at this point, we have the luxury to be choosey."
Brokers Aaron Ellison and Jim Wenk of Jones Lang LaSalle represented Knewton in the deal.
Dgeiger@observer.com