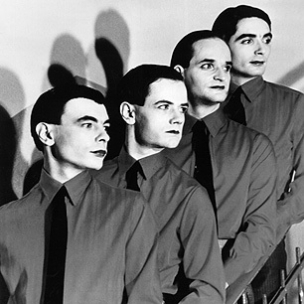 Some people don't have very much "Computer Love" in their hearts after being locked out of getting tickets for Kraftwerk's forthcoming MoMA residency. Tickets for each of the group's eight performances retailed for $25 a piece. You'd think: With eight performances, there'd be enough of the tickets to go around. You'd be wrong. A lot of people don't have fast computers or were going to the bathroom when they went on sale, and now, they're sad that they don't have Kraftwerk tickets. [Ed. Something about "Showroom Dummies" here.]
Truth be told, there's still a way to get into the shows: The Gloriously Sleazy Secondary Market of Craigslist.
Via The Awl: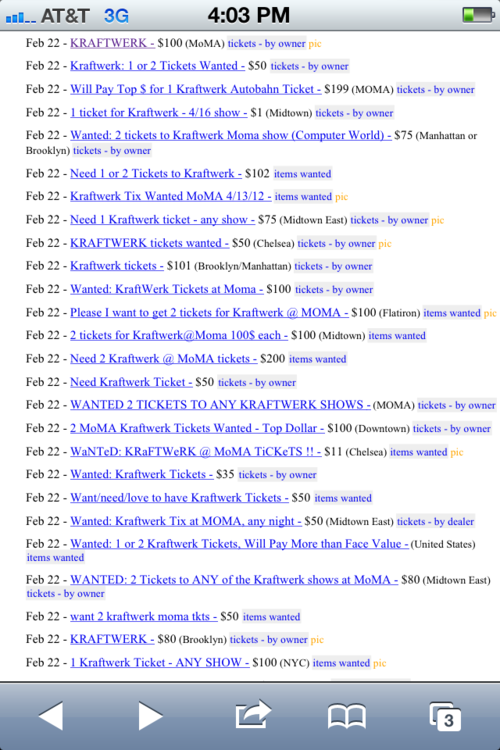 And how shameless are the sellers/desperate are the bidders?
One guy, who has two tickets to the Computer World night:
Email me if you're interested. No reasonable offer will be accepted 🙂
🙂 indeed! One person is offering $300. Another is offering $200. Some are more specifically desperate requests than others ("i'm a diehard & need to go see the Kraftwerk Autobahn show.") and some are just oddly charming Kraftwerk-laden jokes. Like this one, entitled "Wanted: 2 Tickets to Kraftwerk's Man-machine for 2 Pseudo-humans":
We would be willing to pay $120 for two tickets to Man Machine on Saturday, April 14.

Us:
We are the robots. She's a model and she's looking good, and I am not your sex object. We like synthetic electronic sounds. She gives you her affection and I give you my time. (and $120)
We are trying to get a connection on the telephone line.

You:
So close, but far away.
Secondary markets like this usually tighten up in the lead-up to the event, and then loosen right before. So those who are truly among the desperate for Kraftwerk tickets who got locked out are probably going to have to wait a bit before they get an answer on this.
But now you know: Kraftwerk, still a big thing.
Here is a really enjoyable cover of "Computer Love" that has nothing to do with Coldplay:
fkamer@observer.com | @weareyourfek