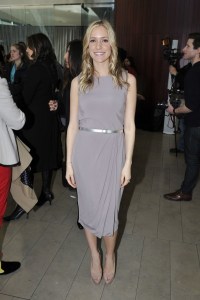 "Kristin! Kristin!" a photographer yelled. The Hills star instinctively obliged, posing flashing her pearly veneers in the direction of the yelling paparazzo. "Can I get a shot from the side?" he asked Kristin Cavallari, who recently announced she was pregnant. "Umm, I'm not really there yet," she said. "I just look kind of fat when I do that."
Indeed, despite the much-publicized pregnancy announcement, Ms. Cavallari has barely begun to show, and hand-on-burgeoning-belly shots which will doubtless grace the cover of tabloids in the months to come seemed premature this morning.
Ms. Cavallari was sporting a pregnant glow at the Rachel Roy show this morning and, as throngs of classless fashionistas for photos with her, she cheerily played to her adoring public.
And she's feeling great. "I've just been tired, but I haven't had any morning sickness. So I'm really lucky," she told The Observer.  " On her jaunt to New York, Ms. Cavallari will be seeing a few shows and getting some R&R. "I will be getting a massage Wednesday morning," she said. Jay ("my fiancee," she clarified, for good measure) will meet her for dinner tomorrow evening, and they will enjoy their pre-baby vacay.
"Kristin, Kristin!" a voice called. "I just wanted to introduce myself," a fan said, approaching. "My wife is pregnant, too!!" Poor Kristin, hopefully she enjoys discussing her delicate condition, because it seems that's all anyone wants to talk about. Doesn't it get annoying? we wondered.
"There are certain questions that come with it that you just expect," she said. Ah yes, in the life of post-reality tv show celebutantes, there is no premium on privacy.