Lebanese American University is buying a three-floor office condominium at 211 East 46th Street for $11 million.
LAU, which has campuses in Lebanon but has adjunct operations in Manhattan, will use the roughly 30,000-square-foot space primarily for administrative offices and classroom facilities.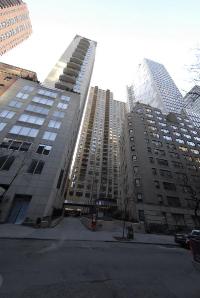 Michael Rudder, a specialist in commercial condo sales who operates his own brokerage company Rudder Property Group, handled the deal for Cammeby's International, the firm that is selling the space.
Cammeby's, whose chief executive is the real estate investor Rubin Schron, an owner of the Woolworth Building in lower Manhattan, bought 211 East 46th Street in 2008 in partnership with Extell Development and the pair proceeded to convert the primarily residential rental apartment tower into condos. The partnership sold the units along with the building's parking garage and retail space.
Cammeby's held onto the office space primarily because it was occupied by Goodstein Management, the company that was the property's previous owner and which, until recently, based its operations on 211 East 46th Street's office floors. Cammeby's plan was to sell the condo once Goodstein left so that it could market the condo to a user who would occupy the space, a buyer that will usually pay a premium over what an investor interested in renting out the space or reselling it will offer.
Mr. Rudder, who has emerged as a leading broker of office condos in the city, said that several parties had made offers for the space, which is at the base of 211 East 46th Street.
"We had maybe ten bids," Mr. Rudder said. "LAU was a cash buyer and they were ready to make a deal without any contingencies and take all of the floors."
LAU will relocate its facilities from a smaller location it currently has at 475 Riverside Drive to the new space.
Dgeiger@Observer.com