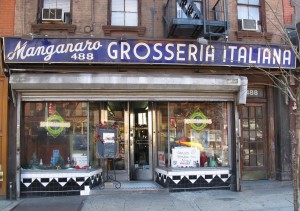 Manganaro's Grosseria Italiana, the venerable Ninth Avenue sandwich shop, is serving up its last sub today, according to DNAInfo, ending a long-running feud with Manganaro's Hero Boy next door. The closing was first reported by Vanishing New York. The shops are owned by different branches of the Dell'Orto clan, who have not been on speaking terms for years.
The news comes almost a full year after the Wall Street Journal prematurely reported the news. 
At the time, Seline Dell'Orto told The Observer the shop was open for business and would remain so for the foreseeable future. She also grew misty as she talked about her reputation for surly service, and the Yelpers who had trashed her online.
Maybe a few of them will be inspired to finally be a real hero and go break bread with owner one last time.