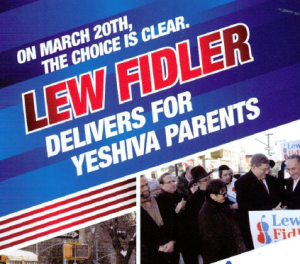 Councilman Lew Fidler, the Democratic candidate in the special election to replace former State Senator Carl Kruger, is sending out direct mail advocating a heavy increase in state funding to Jewish education institutions. Restraining yeshiva tuition costs is one of the key political issues in the district's Orthodox neighborhoods, a fact Mr. Fidler is surely aware of.
Yeshiva tuition aid also played a key role in the politics surrounding Mr. Kruger's seat as he was battling his federal corruption charges. Last April, City & State reported Majority Leader Dean Skelos received a promise of electoral support from the politically powerful social services organization Agudath Israel when he muscled through $18 million in tuition assistance for rabbinical students despite a then-$10 billion deficit.
Mr. Fidler's plan, outlined in the mailer, goes far beyond that $18 million:
"1. Tuition Tax Credits to reimburse parents up to $5,000 in tuition per yeshiva student.

2. Provide State funding for security cameras around all yeshivas.

3. Increase funding for after-school Priority 5 vouchers so that all eligible children receive vouchers.

4. Give parents vouchers to choose their own bus transportation–one that works best for their schedule.

5. Force the State to reimburse private schools the $350 million already owed for mandated services — funds that would go directly to yeshivas."
The mailer was sent from the Senate Democrats' account, likely explaining the money his campaign contributed to the statewide committee.
David Storobin, Mr. Fidler's Republican opponent, also stresses the importance of yeshiva tuition relief when not involved in the increasingly negative back-and-forth between the two competing candidates.
Voters head to the polls on March 20th.
View the mailer below: