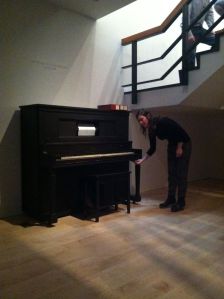 Once a day, on the fifth floor mezzanine of the Whitney Museum, artist Lucy Raven will do a performance, sort of.  She and artist Jason Moran have programmed a player piano with three variations on an LCD Soundsystem song. Once a day, there will be a recital of "Dance Yrself Clean" by the player piano.
"'Dance Yrself Clean' is a digital synthesized dance song," said Ms. Raven about the song yesterday at the press preview. "There are three variations." Ms. Raven played a version of the song with a languorous rag-time-y feel.
The piece, entitled What Manchester Does Today, the Rest of the World Does Tomorrow, examines the effects of digitization on analog processes and is part of a larger installation that involves a video, which displays test patterns and calibration charts from contemporary and historical examples of digital cinema and film. Mr. Moran composed all of the arrangements.
"The piece works on a very early form of binary code," said Ms. Raven standing by the pianola. "It works through air blowing through holes in the paper." The holes in the paper correspond to notes on the piano, which pumps air through the holes to sound the notes.
"So one is an actual inscription, which is the same in real time as the song itself—a little under nine minutes." She bent down and turned the piano on.
She played the version. As the keys moved themselves in a rigid staccato expression of the dance song, it sounded like we were in a piano bar of the future, listening to songs of the past.
"It's a walk through music of the 20th century," said Ms. Raven. "But also I've been thinking of a way for the player piano to almost play its own elegy. What happens when it's repelled from culture and there's a gradual switch?"