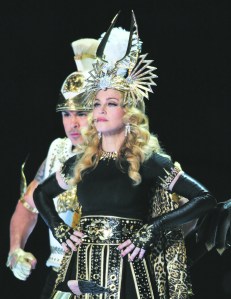 Yesterday, New York residents found themselves split into two categories: the people who celebrated the New York Giants' victory over the New England Patriots in the Super Bowl—for the second time!—by reveling in the ticker tape parade that stretched all down Broadway, and the people who spent the day trying to get through their daily commute. We're not saying that Eli Manning shouldn't be celebrated like the "elite" quarterback (take that, ESPN) and god of pigskin that he is, but why couldn't the city have the parade over the weekend?
Not that we're complaining—O.K., we are complaining—but if there's anyone whom we should be cheering on for their performance on Sunday night, we'd pick Madonna over Victor Cruz. Not only did she perform more daring feats of agility and endurance than men half her age and eight times her size during her halftime show, but she made us all believers in the power of Madge again. Who cares if she lip-synced through the entire performance (like Elton John snarked that she would)? Madonna—whose reputation in recent years has been overshadowed by the likes of Lady Gaga and her own crazily-muscled arms—made us all believers again in the power of Vogue. We're convinced that the reason this year's Super Bowl was the most watched event in history had less to do than those fourth-quarter plays than with nonsports fans tuning in to see the Queen of Pop prove that she still deserves her title (after which those same viewers turned the channel to PBS to catch the new Downton Abbey).
But while Madonna was off representing New York in Indianapolis, the city was having its own musical revolution. Jay-Z performing in Carnegie Hall was history in the making—if only for the fact that he managed to keep Kanye West off the stage for the entire show. We were disappointed to find that Blue Ivy Carter wasn't wheeled out during Jay's rendition of "Glory" (especially because the infant provided back-up vocals on the track), as we were entirely prepared to go down on one knee and bow to our new messiah. How can we worship her if People magazine hasn't even been able to get a cover shot yet? Oh, well. The arrival of Nas on stage was a nice consolation prize.
On the off-chance you weren't able to snag one of those $1,200 seats for Carnegie's biggest hip-hop show, you could comfort yourself by curling up on the couch and pretending you were backstage on Broadway. After so much fanfare, Smash finally premiered (though NBC has been promoting the show for so long that we could basically piece the pilot together just from the commercials). The ad campaigns had us confused about the real focus of the show—was it a Glee-like musical about two young women vying to be Marilyn on Broadway, a TV version of Burlesque, or a reality show in which Angelica Houston throws water on people?—but the first episode quickly cleared it up for us. The show was about drama, desperation and adopting Chinese babies. While you can't judge a show by its pilot (O.K., you can), Smash was objectively not an instant smash hit with the critics. Except for New York Post's theater critic Michael Riedel, of course, since he'll be playing himself in the show. Tres meta!
Still, there are far greater tragedies on television than Debra Messing's wasted screen time: HBO's dark look at the sleazy world of horse racing turned out to be more of a reality show when PETA discovered that two of the race horses used for the Michael Mann drama had to be put down after fracturing their legs during filming. (They do shoot horses, don't they?) Our advice to star Dustin Hoffman? Make sure your insurance covers any sort of foot injury. We wouldn't want to see Tootsie carted off to the glue factory as well.
Even Fashion Week is getting into the musical vibe. We're especially looking forward to the American Express Tommy Hilfiger show, which will include its own version of Off-Broadway theater with a performance by a fictitious family called (appropriately) the Hilfigers going on a camping adventure. (Did we mention Cobra Starship will be playing a live set during this romp?) The whole scenario couldn't sound more bizarre if it included a Fashion Week edition of Rich Hil(figer)'s infamous rap classic, "Cookies and Apple Juice."
Actually, scratch that. We don't want to make the models hungry, lest they get faint and fall down during their sashay down the runway. They might shoot horses, but the fate of a model that breaks an ankle is way worse: at least the show ponies don't have to suffer under the withering gaze of the entire Vogue editorial staff in the front row.