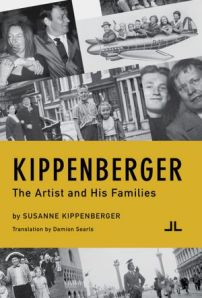 We're in the middle of reading Kippenberger: The Artist and His Families, the German-language biography of painter Martin Kippenberger written by his sister, Susanne Kippenberger, which was just translated into English, and so far, it's fairly good, filled with stories about the indefatigle artist's projects and life, which were pretty much the same thing.
Knowing only the vague outlines of the artist's time as a young man in Berlin, running the notorious S.O. 36 club, where bands like Wire, Iggy Pop and Lydia Lunch, played, we were thrilled to come across a section all about the artist's music listening habits. It turns out they were pretty idiosyncratic.
Here's Ms. Kippenberger: "According to gallerist Friedrich Petzel, Martin's taste in music was horrendous–Petzel had to listen to 'If You Don't Know Me by Now' by Simply Red for weeks on end while putting together the multiples installation in Gisela Capitain's Cologne gallery, 'eight beats for six weeks.'"
Another Kippenberger favorite was Wilson Philips' classic "Hold On," which we're pretty into also.
The book quotes Kippenberger's old colleague Albert Oehlen saying that the artist had "a woman's taste" in music because he would listen to songs on repeat, "which men normally can't do." Didn't know that!
Ms. Kippenberger shares:
"He played Leonard Cohen to excess and would listen to the soundtrack to The Bodyguard over and over again in his studio in the Black Forest, singing along with Whitney Houston."