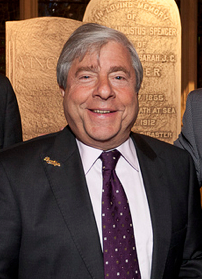 Despite his strong poll numbers, Brooklyn Borough President Marty Markowitz says he's not running for mayor next year because he doesn't want to deal with "the abuse" heaped upon occupants of Gracie Mansion.
"To be mayor you've got to have heat, you need fire in your belly to take the abuse they're going to put you through," he told The Politicker as he headed into Comptroller John Liu's State of the City address at City College in Harlem this morning.Mr. Markowitz came in third behind Council Speaker Christine Quinn and Police Commissioner Ray Kelly in Quinnipiac University's most recent poll of the possible 2013 mayoral candidates last December, but he says he's not interested in entering the fray.
"Let the other ones do it," Mr. Markowitz said dismissing the possibility with a wave of his hand. "Let the young ones do it."
Though he's staying out of the mayor's race, Mr. Markowitz thinks the city will do just fine with the current crop of City Hall hopefuls.
"New York would survive any of them," he said.