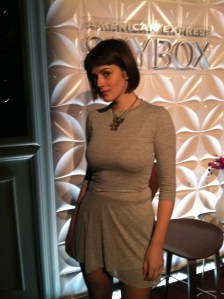 I used to think Fashion Week was fun. This was years ago, when "the tents" referred to actual tents. Back in the day (it must have been, oh, 2008) my friends and I would try to talk our way into Tommy and Oscar shows and blog about the experience. It was surprising how often our feigned frustration—"What do you mean I'm not on the list? Please call Eric and let him know that we're here"—would get us in.
I'm still not sure if there was an Eric, but somehow he always came through.
Now, older and wiser and having recently embarked on a journalistic mission to embed myself among the social elite, I have actual invites (22, to be exact), a fresh Anna bob and a mission, should I choose to accept it, to treat Fashion Week not like a joke, but like a job.
Which is a lot harder than it looks.

I began my odyssey by tagging along with The Observer's resident fashion expert, Ben Le Hay, to a pair of showrooms—Archetype on Broadway and European designer mecca Agency V—where, get this, people just give you clothes. For free! All you have to do is pick out which ones you want, and hopefully get your picture taken wearing them.
The clothes on offer weren't exactly my style, which is to say they were stylish, like the asymmetrical tiered gray miniskirt and fitted long- sleeve shirt from Holy Tee that made me look like a slutty ice skater. (It turned out to be a good choice, or so our fashion mentor, Mary Alice Stephenson, tweeted after we ran into each other at Doo.Ri.)
There were paint-splashed yoga pants that tapered into trousers from 5 Preview, and dresses that looked like muumuus made from fabric that felt like the scratchy cover of grandma's couch.
As for accessories, writer Paula Froelich, formerly of Page Six, generously donated a giant Prada bag and a Chanel clutch to the cause. The upshot of which was that I was too scared to eat, drink or carry anything on my person for the entire week, lest I spill food down my front or have a pen leak in a bag worth more than my life.
Mr. Le Hay had made me a Xeroxed cheat sheet featuring pictures of every prominent socialite, designer and super-flack whom I might reasonably encounter. And though I tried to commit the faces to memory, I frequently found myself wondering, Was that Poppy DeLevigne, or a buyer from Neimans?
Sometimes I just took a guess.
"Oh, my god, Eric!" I exclaimed, sauntering over to a guy I could swear I recognized from the look book. "How are you?"
"I'm great, how are you girl?"
If Derek Blasberg noticed that (a) we had never met and (b) I didn't know his name, he was polite enough not to show it. (This, I realized, was my trump card: All these other fancy people are clearly too well-mannered to acknowledge my own ill-manneredness.)
"Oh you know … this," I said, gesturing toward the runway. "Sooo crazy. I can't wait for the party tonight." I was hoping the prompt would be enough for Mr. Blasberg to reveal the secret location of whatever party might be happening.
"Oh, yeah, maybe I'll see you there!" he said with a smile, turning his attention back to Alexa Chung, who was being accosted by a woman asking her to sign a petition for the Model Alliance.
"We're fighting for models' rights," the woman explained.
Ms. Chung looked confused. "I think I'd need to know a little more information before I sign this," she said. "I've never heard of you before."
Earlier, I got a quick lesson from former Vogue associate publisher Lottie Oakley on how the seating at the shows was arranged. We were looking down from the American Express Skybox, which she hosted all week. "Section A is your American editors, designers and magazine people," she pointed out. "Across from them are the Europeans. See, there's Amy Astley from Teen Vogue. She's the blonde with the bangs." I nodded, although everyone in Section A was blonde with bangs.
The middle section, Ms. Oakley told me, was for the buyers, while the chairs set up on the actual runway—literally, in the middle of the runway—were reserved for celebrities and fashion bloggers.
The SkyBox was also where Lucky editor Brandon Holley imparted some secret wisdom about how to snag a good seat: "Be a blogger! I was just sitting with the editors from Glamour," she said. "And they had a seat reserved in the front row that everyone wanted. But they weren't giving it up. they told us it belonged to a boy named Bryan. BryanBoy? He was a fashion blogger; he helped me use Twitter."
We met Kelly Cutrone of People's Revolution at Mara Hoffman's show. (Ms. Cutrone had thoughtfully seated us in the front row, next to the designer's father, Monte. Nice gentleman, and he didn't bat an eye when he realized his daughter had designed the condoms included in her gift bags.)
When I let it slip to the author and TV fixture (who's replacing Andre Leon Talley on the forthcoming season of America's Next Top Model) that I was determined to make myself over, during the course of this column, into an "It" girl, she chided, "Don't try to be an 'It' girl, be a 'You' girl." She added that Fashion Week would be useless to me as a social hunting ground, "because no one really 'meets' during shows." She suggested I work on "cultivating a persona" instead. "You can get noticed and build up some buzz just by being a little mysterious."
The best way to be truly mysterious, of course, is to occupy a completely undeserved seat in the front row. Snagging one isn't that hard, Ms. Cutrone told me: one need merely be overly gracious to those apple-cheeked interns wearing headsets, because they'll be the ones frantically trying to fill up the gaps when showtime starts and someone important hasn't arrived.
"Oh, if you need help filling A-1-13," I cooed during Geoffery Mac's show at Runway Exit, "I'd love to help you out."
More challenging was gaining access to the VIP suites and parties. The former I managed via a combination of old-Drew shamelessness and new-Drew business cards. The Mercedes-Benz lounge featured skin-care stations, plush sofas and free Champagne. It was also the only place—outside the $10 sandwich corral next to the blogging pen—where I came across a few snacks that weren't in bar form.
I spent half of Fashion Week in that lounge, where I met New York Giants wide receiver Ramses Barden and struck up a conversation with Emma Snowdon-Jones about the importance of delivering a sincere compliment. "You always want to say something nice about what someone is wearing," the Dominican-born socialite told me. "But people can tell in your tone of voice if you are picking up on an item just to have something to say."
As for the after-parties, I skipped most of them, because a girl has to eat and sleep and also pack all her belongings because she's in the process of moving. Sometimes, a girl even has to try to put together a bed frame while subsisting on a diet of Fiber One bars, and ends up knocking over two lamps and shattering glass everywhere.
My Fashion Week burnout happened five days into the process. While sitting at Diane von Furstenberg's show fiddling with a long necklace generously lent by Lia Sophia, I think: I've finally made it. I'm at one of the most high-profile shows at Fashion Week, surrounded by the likes of Anna Wintour, Graydon Carter and Carine Roitfeld. I'm not just at Fashion Week … I'm fashionable!
That's when I looked down to check the chain on my necklace and realized that, yes, the black shirt that looked fine in my lampless bedroom that morning had revealed itself to be 100 percent transparent. Fortunately, the circling photographers were too bent on getting a shot of Anderson Cooper to notice.
I don't think I've ever been so grateful to be a nobody in my life.
dgrant@observer.com