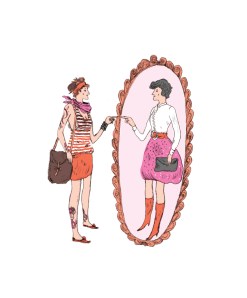 I used to love performing on stage. Loved it. Since I obsessively listened to musicals, I was pretty sure that I had the perfect voice for showbiz. So it never made sense to me that I was always relegated to the far-far background in middle school productions of The Pajama Game and Damn Yankees after trying out for the leads.
It was especially baffling after my parents had spent money sending me to northeast Maryland's finest summer programs.
It wasn't much better when it came to non-musicals. (I think one time the teachers at my summer camp were forced to make up a role in Romeo and Juliet that required no talking just to keep me in the production. I was the Apothecary's Assistant.)
But never mind that—I knew I was good at acting. I was the loudest, wasn't I?
In high school, a friend in the A.V. club cast me in a school-wide commercial for our upcoming Shakespeare Festival. The commercial would air on TVs in  every classroom. I was confident that my humorous shtick—in one segment I think I was going for "sassy black lady" and pronounced the Bard's name Shake-a-Spear—would kill.
When the commercial aired, I learned an important lesson. It wasn't just that I was bad; it was the total lack of self-awareness of just how bad I was. It was ugly. I vowed never to speak in public again.
Now that I'm a budding socialite, however—charting my progress in this regular column—I am steeling myself for the inevitable. In time, I'll be asked to speak at a variety of functions and red carpet events. I'll be interviewed, and mean journalists will edit my words to make me sound shallow and dumb. That's one of the great privileges of being in society.
Clearly, if I were truly to "make it," I would have to overcome my deathly stage fright, but I'd have to do so far from the swanky benefits, fashion shows and salons where I'd be making my steady ascent. I'd have to slum it.
Fortunately, I'd been invited to participate in a live comedy revue in the wilds of the Lower East Side called the Skinny. The host, Peter DeGiglio, had been emailing me ever since my sister had seen his show—a Daily Show/Letterman-type deal—and passed along my name as a potential guest, presumably because as a journalist, I'd be assumed to know something about current affairs and be able to make humorous remarks. This is not the case, unless it's a Republican debate and I happen to be on Twitter. Still, I said yes.
For help, I turned to Jill Kargman, whom I knew from her recent book, Sometimes I Feel Like a Nut. She's a hysterical author, a mother, and a socialite: three things you wouldn't expect in one package. She's also done her fair share of public readings and book tours, all while maintaining her extraordinary sense of composure and humor. I begged her for help, and during a quick lunch at Le Pain Quotidien last week, she offered up a few tips.
"Never try to memorize what you're going to say, that will just trip you up," Ms. Kargman told me, sipping a latte. "You're just having a conversation with someone, or you're telling a story, like you would to a friend. That's all there is to public speaking."
Ms. Kargman added that she uses the same technique when writing. "All my books, I write like I talk," she continued. "I don't do more than one draft…I just shit it out." (Did I mention I love this woman?) "It's the same with going on stage. There are some days when I feel like barfing my brains out, and I'm supposed to go up and talk with 1,200 people." She did advise me to prepare at least one joke ahead of time. She recalled one occasion when she was supposed to speak at a charity benefit for City's Harvest. She'd had two hours of sleep, and had no idea what to say. Worse, she thought she was the wrong fit for the event.
"I got up and said, 'Gee, I'm very honored to be here, and I love what you do, but honestly, I write books about people who skip meals on purpose." They ate it up.
"Also, sit up straight and open up your shoulders," she said, noting my posture. "And…do you drink? Have a drink before you go up. And have fun with it!" Ms. Kargman added as we parted ways.
I have to admit, I didn't feel much better after my conversation with the pro. Ms. Kargman was funny, and she had great timing: If I'd tried to make that City Harvest joke, I'd be run out of the charity circuit by angry women clad in Chanel and wielding sterling pitchforks.