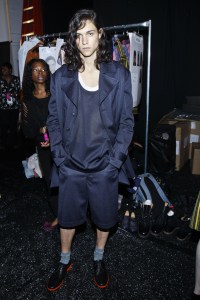 Fresh off the runways in Milan and Paris, model-newcomer Miles McMillan (who walked in Dior, Etro, John Varvatos, Costume National and Damir Doma—to name a few) is gearing up for another strong season of shows and parties in New York. The Observer hunted him down to find out what life is like when you're so in-demand.
How did this all start? Modeling, posing, and such… were you discovered?
I was standing on the street and a girl came up to me who wanted to shoot me for Urban Outfitters. I finally ended up with DNA [Models] last March and then when I graduated last May from NYU, I started doing it full time… and it took off!
You were quite popular at the shows in Europe this past January—tell us about your rise to the top?
It was crazy! Last time I was in Milan I did two shows… this time I did seven!
Impressive! What is your favorite show to walk in?
Dior is always my favorite. It's a very big production… the music and clothes are the best! I love it!
What are castings like in New York? Is it painful?
Here it's very organized: you go to a casting, you wait maybe 30 or 40 minutes and then you get pulled in, give them your book; they take a picture and you have to walk. Then sometimes they'll put you in clothes and then you go back for fitting if they like you.
Sounds pretty exhausting… When do you know you're confirmed?
It's not really guaranteed until the end… you never really know until you walk that runway.
What have you booked this season for New York so far?
I'm not completely sure… I've had fittings for Tommy [Hilfiger], one for Richard Chai, Concept Korea, Nicholas K… we shall see!
What's your dream show for New York? Any one you'd kill to be cast for?
My dream is always Richard Chai— it's always really fun and he's a friend.
We'll be at his show! What are you dreading most about this week?
It's pretty good because I live here… when I'm not doing castings… four hour call times before shows… hair done, re-done waiting lots of waiting!
You're always a man about town! Tell us about your party plan…
Tonight I'm going to a Sandro opening… I did their look book… Richard Chai is having a party— everyone is having party!
Typical! But aside from Chai, who throws the best shindig?
I think V magazine always has the really fun parties and Purple [magazine] and Alexander Wang!