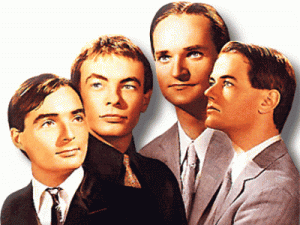 In what sounds like one of the most elaborate music retrospectives to ever grace a museum, MoMA's upcoming exhibition "Kraftwerk-Retrospective 1 2 3 4 5 6 7 8" will feature the electronic band playing all eight of their studio albums chronologically on eight separate nights, from April 10 to April 17.
Those albums, for those who need a refresher, are: Autobahn (1974), Radio-Activity (1975), Trans Europe Express (1977), The Man-Machine (1978), Computer World (1981), Techno Pop (1986), The Mix (1991) and Tour de France (2003).
> Click to see important images of Kraftwerk.
The press release promises "elaborate staging" with 3-D images and "new improvisations." The show is organized by none other than Klaus Biesenbach, MoMA's chief curator at large and the director of MoMA PS1. The performances will take place in the museum's atrium.
Here's the other thing: tickets are only $25. They go on sale Feb. 22, and since there's nothing about any of this news that isn't really amazing, you should probably take off work that day and sit at your computer refreshing this URL: MoMAKraftwerkTickets.showclix.com. Or: none of you do that and the folks over here at Gallerist will buy up all of the tickets and have a private Kraftwerk party at MoMA. That also sounds good.
Here is a video of Kraftwerk playing their classic song (and surprise 1974 radio hit!) "Autobahn," live in 2007.